Defense Health Agency – Clinical Communities Speaker Series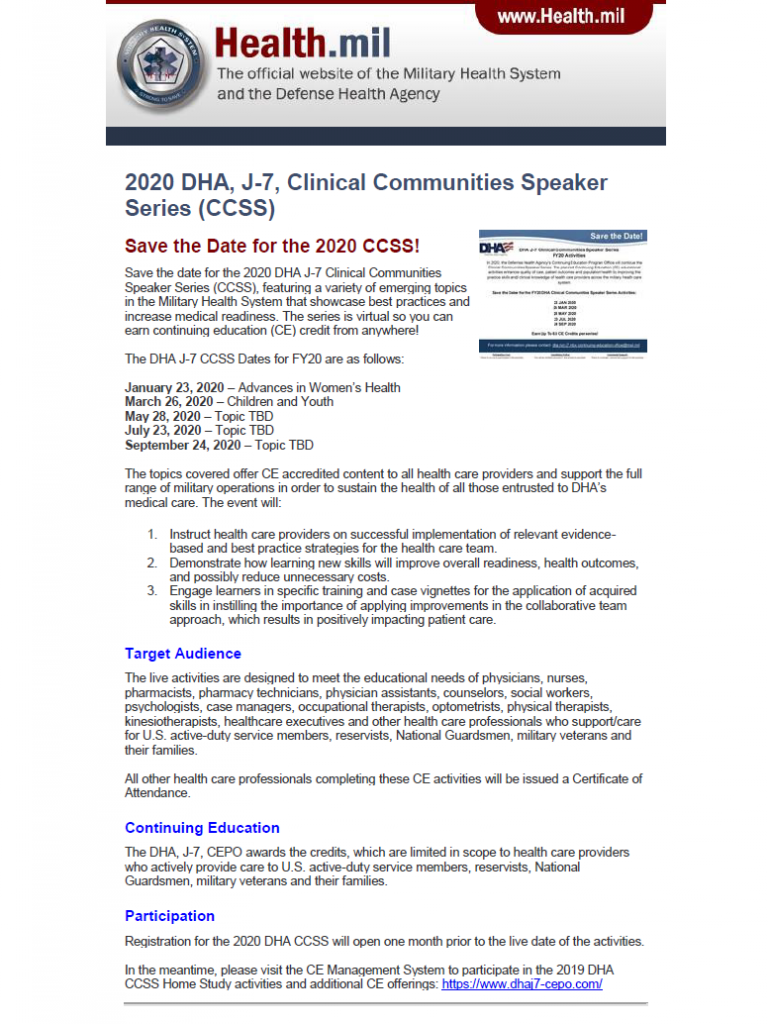 DHA Clinical Communities Speaker Series Live Event – Free CE Opportunity
Advances in Women's Health
January 23, 2020
07:30-16:45 (ET)
Registration is now open for the 23 January 2020 DHA J-7 Clinical Communities Speaker Series (CCSS), "Advances in Women's Health." The event is virtual allowing you can earn up to 7.0 continuing education (CE) credits from anywhere if all courses are completed!
To register for the January 2020 CCSS Live Event, please visit the following website: https://www.dhaj7-cepo.com/content/clinical-communities-speaker-series-23-jan-2020
The event highlights current evidence-based practices, recommendations and initiatives, ethical considerations, clinical care pathways, and public health screenings related to women's health. The educational content will be created by Subject Matter Experts in the ethical, research, technological, and medical domains of military and civilian health care sectors. The primary focus of this event aims to enhance the quality of patient outcomes and population health by providing advanced continuing education opportunities to improve the practice, skills, and knowledge of health care providers across the Military Health System (MHS).
 Overview of Topics for Live Event
Preparing Women for Deployment
Army Col. Nicole Powell-Dunford, M.D., Director of Graduate Medical Education, U.S. Army School of Aviation Medicine (USASAM), Women's Health Consultant to the Army Surgeon General, Associate Professor Military & Emergency Medicine, Uniformed Services University of the Health Sciences (USUHS)
Army Maj. Amber Chew, D.O., S.A.M.F.E., F.A.C.O.G., Staff Obstetrician and Gynecologist (OB/GYN), Sexual Assault Medical Director, Brian D. Allgood Army Community Hospital Camp Humphreys, Republic of Korea
Recommendations and Initiatives in Women's Health from Select Agencies  
Army Col. R. Elaine Freeman, B.S., Military Director, Defense Advisory Committee on Women in the Services (DACOWITS)
 Navy Capt. Gregory Gorman, M.D., M.H.S., M.C., Executive Director, Defense Health Board, DHA
Sally Haskel, M.D., M.S., Deputy Chief Consultant for Clinical Operations, Director of Comprehensive Women's Health, Women's Health Services, Veterans Health Administration
Navy Cmdr. Shannon Lamb, M.D., B.A., Chief Office of Women's Health, Bureau of Medicine and Surgery, OB/GYN Specialty Advisory to the Navy Surgeon General
Updates on Clinical Care Pathway Induction of Labor and Venous Thromboembolism (VTE) Prevention
Army Lt. Col Erin Keyser, M.D., Army Representation, DHA Women and Infants Clinical Community, Associate Program Director for the Department of OB/GYN, San Antonio Military Medical Center (SAMMC)
 Navy Cmdr. Monica A. Lutgendorf, M.D., F.A.C.O.G., Chair, DHA Women and Infants Clinical Community, Associate Residency Program Director, OB/GYN, Associate Professor, USUHS, Division Head Maternal, Fetal Medicine, Naval Medical Center San Diego
Army Lt. Col. Dalia J. Wenckus, M.D., Physician, Joint Base San Antonio, Brooke Army Medical Center (BAMC)
Air Force Lt. Col. Larissa Weir, M.D., F.A.C.O.G., Assistant Professor, OB/GYN, Residency Program Director, OB/GYN San Antonio Uniformed Services Health Education Consortium
Polyp, Adenomyosis, Leiomyoma, Malignancy and Premalignancy, Coagulopathy, Ovulatory Dysfunction, Endometrial, Iatrogenic, Not Yet Classified (PALM-COEIN) Classification System for Abnormal Uterine Bleeding
Army Lt. Col. Elizabeth M. Nutter, D.N.P., R.N., C.N.M., R.N.C.-O.B., Chief of OB/GYN Ambulatory Services & Midwifery Services, Madigan Army Medical Center, Women's Health Nursing Consultant to the Army Surgeon General, Joint Base Lewis-McChord
Women's Health Issues and the Law
Dana M. Bowers, Esq., Attorney-Advisor, DHA, Office of General Counsel, Walter Reed National Military Medical Center (WRNMMC)
 Enhanced Recovery after Surgery (ERAS) in OB/GYN in the Era of the Opioid Epidemic
Navy Cmdr. Kristi Wood, D.O., F.A.C.O.G., Department Chief, OB/GYN, Fort Belvoir Community Hospital (FBCH)
Air Force Maj. Jeanette Anderson, M.S.N., R.N., R.N.C.-O.B., Branch Chief, Provision of Inpatient Nursing Care, Perinatal Nursing Consultant to the Air Force Surgeon General, Air Force Medical Readiness Agency (AFMRA)
Best Practice: Scheduling Strategies for a New Generation of Women
Air Force Lt. Col. Brittany S. Nutt, D.N.P., R.N, W.H.N.P.-B.C., Clinical Medicine Flight Commander, 2d Health Care Operations Squadron, 2d Medical Group, Women's Health Nurse Practitioner Consultant to the Air Force Surgeon General, Air Force Global Strike Command (AFGSC)
Target Audience
The live activities are designed to meet the educational needs of physicians, nurses, pharmacists, pharmacy technicians, physician assistants, counselors, social workers, psychologists, case managers, occupational therapists, optometrists, physical therapists, kinesiotherapists, healthcare executives and other health care professionals who support/care for U.S. active-duty service members, reservists, National Guardsmen, military veterans and their families.
Continuing Education
The DHA, J-7, CEPO awards the credits, which are limited in scope to health care providers who actively provide care to U.S. active-duty service members, reservists, National Guardsmen, military veterans and their families.
Participation
To register for the January CCSS Live Event, please visit the following link: https://www.dhaj7-cepo.com/content/clinical-communities-speaker-series-23-jan-2020
If you have questions or need assistance, please email: dha.ncr.j7.mbx.continuing-education-office@mail.mil