SAMHSA Webinar Lesson Learned Suicide Prevention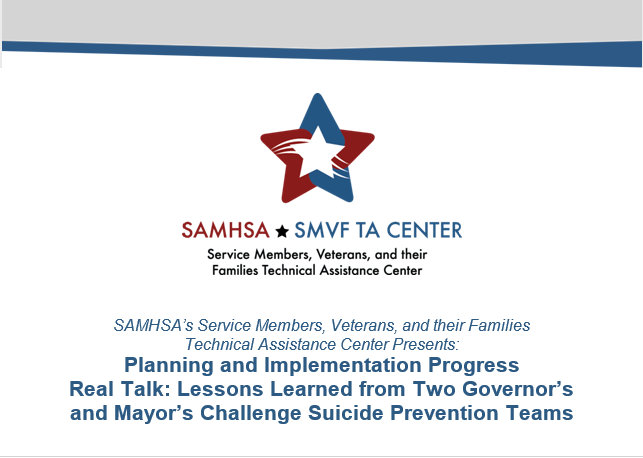 Webinar Date: April 23, 2019
Time: 12:00-2:00 p.m. (EDT)
SAMHSA's Service Members, Veterans, and their Families (SMVF) TA Center will host a webinar in partnership with the Veterans Health Administration (VHA) that will feature two teams participating in the Governor's and Mayor's Challenges to Prevent Suicide Among SMVF: Arizona and Richmond, Virginia. This webinar is designed to be both interactive and informative and will address the challenges and opportunities that are inherent in implementing a comprehensive approach to suicide prevention for SMVF.
Learning Objectives
Discuss the Be Connected initiative and describe how this program can serve as an example for other statewide initiatives using a collective impact approach
Demonstrate how interagency partnerships have increased the capacity of the service system in Arizona and Richmond, Virginia
Review the crucial elements of implementation, including team formation, sustainability, and specific initiatives
Describe how city-level Mayor's Challenge efforts inform statewide action plan development and bring best practices to other areas of a state.