VA-ACME Military Resource Expo in Virginia Beach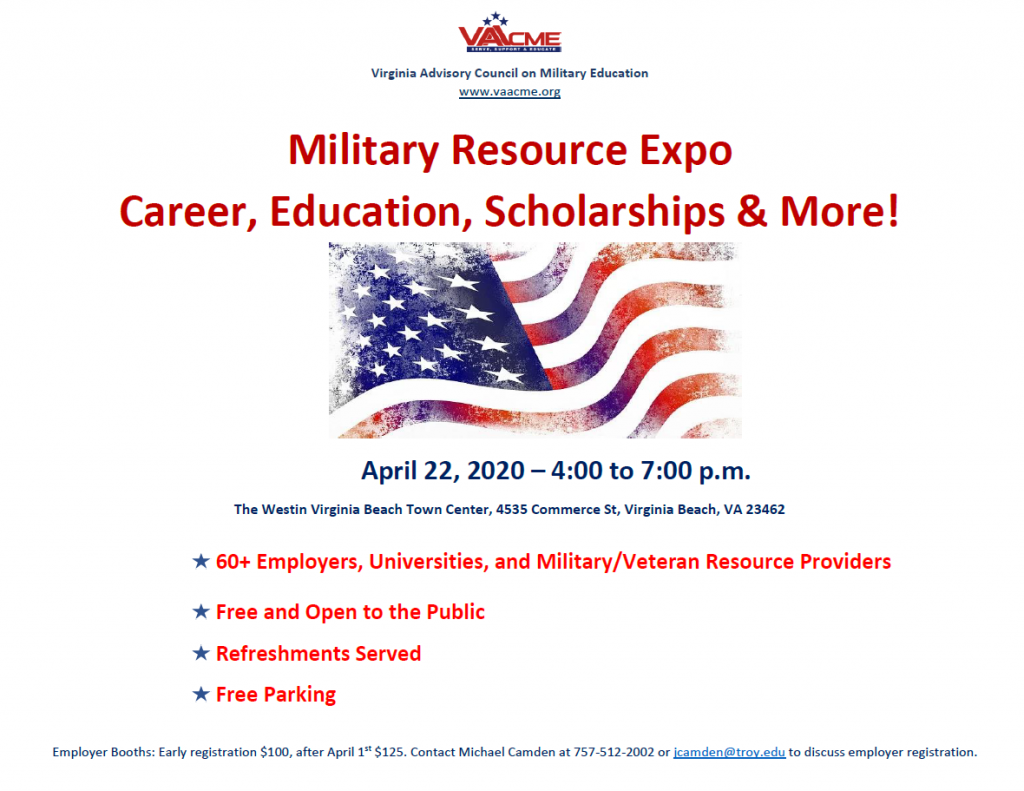 Virginia Advisory Council on Military Education  (VA-ACME) will be holding a Military Resource Expo featuring Career Opportunities, Education, Scholarships & more before their annual symposium in April.
There will be over 60 employers, universities, and military/veteran resource providers in attendance for military, veterans and their families to connect with.
Join us on Wednesday, April 22 from 4-7 pm at the Westin Virignia Beach Town Center. Free parking! Free and open to the public. Refreshments will be served.
Organizations interested in having a booth — early bird registration is now until April 1.
Email Michael Camden at jcamden@troy.edu or call 757-512-2002
More info: https://vaacme.org/
---
ABOUT VA-ACME
VA-ACME hosts multiple networking events throughout the year, provides regular updates on developments within Department of Defense education policies, coordinates an annual symposium attended by over 200 people, and supports students directly with multiple scholarship awards.
The annual VA-ACME Symposium brings together Council members, post-secondary educators, schools, and state and local government representatives to continue working on behalf of Virginia's military and veteran students and their families.  This event facilitates the discussion of current issues and planning for future programming.  The theme of this year's Annual Symposium is  A SHARED MISSION: Leaders Forging Unity.  The 2020 Symposium will be held at the Westin Virginia Beach Town Center.
VA-ACME has created a robust scholarship program, awarding multiple scholarships totaling a minimum of $10,000 every year. The scholarship awards are presented during the annual VA-ACME Symposium at a special event honoring the recipients and their achievements.  The following individuals are eligible to apply for the VA-ACME scholarship program:
Active Duty, Drilling Reservist, or National Guard Member

Spouse of Active Duty Member, Drilling Reservist, National Guard, or Military Retiree

Child of Active Duty Member, Drilling Reservist, National Guard, or Military Retiree

Permanently disabled military member or their family member (spouse or child) or family member of service member missing/killed in action

Veteran or Retiree of the Armed Forces