JCA 50+ Employment Expos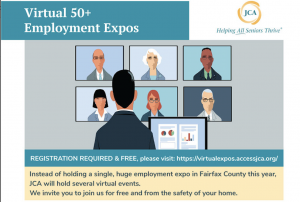 If you are over 50 and looking for employment, you won't want to miss the free and virtual Fairfax Virtual Employment Expo and other later events.
In the Expos, you can network with area employers, attend free workshops, and learn new job-search skills. There are multiple employers with available full-time and part-time salaried job opportunities.
Date: December 10, 2020
Time: 10AM-2PM (EST)