a·ware·ness·ing
SERVING TOGETHER BLOG
a·ware·ness·ing
əˈwernəsiNG
verb
the deliberate action of creating and sustaining a state of awareness.
a proactive relationship with awareness that supports an extraordinary sense of presence.
by Curt Woolford, MA Mindfulness Insturctor, Consultant, and Coach
Before we get into the validity of awarenessing as a word, let's take a look at the relationship of mindfulness and awareness. I like Jon Kabat-Zinn's definition:
Mindfulness is the awareness that arises through paying attention
on purpose in the present moment — non-judgmentally.
Admittedly, awarenessing is not a word you will find in an ordinary dictionary. Let's be proactive and add it to the extraordinary dictionary of mindfulness. Why? Because awareness as a noun limits its meaning and power in the context of applied mindfulness practices.
Before we continue, we need to pause and examine the Triangle of Awareness. This approach helps to understand the mind-body connection:
Triangle of Awareness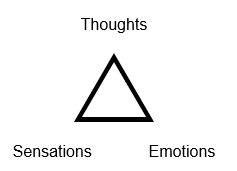 Physical sensations of any experience (pleasant or unpleasant) can be separated from the thoughts and emotions about the experience. The triangle of awareness is about learning to separate and distinguish what is being felt in the body from what is being thought in the mind, and to separate and distinguish thoughts from emotions (feelings and moods). With practice, you will learn to experience the three components of the triangle as distinct.
I ask my mindfulness students to use the Triangle of Awareness to consider thoughts, emotions, and sensations when they are: 1) unaware, 2) semi-aware, 3) aware, and 4) extremely aware. Before you continue reading, take a moment to jot down your responses.
I recorded my thoughts as my students were completing their assignment:
Unaware
I'm on automatic pilot. My habitual mind is running the show and I'm caught up in it. There is a felt sense — physically and emotionally, of unawareness.
Semi-Aware
I'm distracted. I'm intermittently aware that I'm not consistently present. There is a felt sense — physically and emotionally, of semi-awareness.
Aware
I'm present with what's happening right now. My thoughts are present-moment oriented. There is a felt sense — physically and emotionally, of awareness.
Extremely Aware
I'm experiencing an extraordinary sense of presence — timelessness. My awareness is astounding and active — I am awarenessing. There is a felt sense — physically and emotionally, of phenomenal awareness.
I'm defining awarenessing as the deliberate action of creating and sustaining a state of awareness. Rather than being a quality of consciousness that finds us on occasion, it is a deliberate action that creates, recreates, and sustains an aware state of being.
So how is awarenessing practiced? You can use the acronym NOW to support active engagement in the awarenessing process:
N        Notice where your attention is.
O        Open to the present moment with increased awareness.
W       Watch with active awareness; observe yourself awarenessing.
The next time you notice that you are unaware or semi-aware, try the active form of awareness — awarenessing. Redirect your attention into the present moment with NOW. Be proactive with the awareness that arises as you turn towards the present moment. Practice awarenessing.
Questions about Mindfulness?
Visit www.curtwoolford.com for more information about mindfulness and www.curtwoolford.com/guided-practice for guided audio practices.
Contact me at curt@curtwoolford.com to schedule a mindfulness coaching session. Get the support you need to benefit from a mindful life. The first coaching session is free!
About Curt Woolford, MA
Mindfulness Insturctor, Consultant, and Coach
Curt's professional background includes mindfulness, organizational development, organizational communication, and human resource development. He is founder and director of the Mindfulness program for Crozer-Keystone Health System where he teaches mindfulness-based stress reduction and develops workshops for physicians and nurses. Curt's mindfulness at work consulting includes Drexel Emergency Medicine, Lourdes Health System, Crozer Chester Medical Center, Independence Blue Cross, Drexel Law School, Philadelphia Bar Association, Subaru of America, Swarthmore College, and Penn State University.
Curt has been a practitioner of mindfulness for 30 years. He has studied mindfulness-based stress reduction with Jon Kabat-Zinn, The Penn Program for Mindfulness, and the Jefferson Mindfulness Institute. Curt has been an instructor of mindfulness, yoga, tai chi, and qigong for 20 years. With degrees in Philosophy and Educational Psychology, Curt brings a deep awareness of the learning process to his mindfulness instruction.