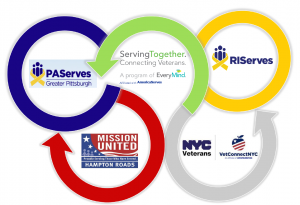 Shared Cost: Communities' Roles and Veteran Transition Stress
Monday, June 14, 2021
1 PM-3:30 PM EST
The Mid-Atlantic & North East Regional Community of Practice presents the eighth Regional Community of Practice training event for our AmericaServes network users and providers in Rhode Island, New York City, Greater Pittsburgh, the National Capital Region, and larger South Hampton Roads communities.
This workshop is FREE of charge to you and your staff within your organization.
This will be a completely virtual training and we encourage you to join us to strengthen your ability to support the military and veterans in your community.
This forum is dedicated to training AmericaServes network users on the impact of collaboration in preventing suicide and crises in the military and veteran population.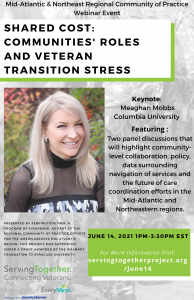 Agenda
1: 00 PM – 1:05 PM
Introductions
Provided by ServingTogether, a Program of EveryMind.
1:05 PM –  1: 50 PM
Shared Cost – Communities' Role and Veteran Transition Stress
Presented by
Meaghan Mobbs, Columbia University
Learning Objectives:
Identify and understand transition stress
Associated risk factors during the transition
Role of community partners in well-being
Recommendations to help close the "deadly gap" during the transition period
2:00 PM – 2:50 PM
The Impact on Prevention and Where is This Heading?
Panelists:
Megan Andros, The Heinz Endowments
Gilly Cantor, MPA, Institute for Veterans and Military Families
Nate Birnbaum, Institute for Veterans and Military Families
Daniel Perkins, Ph.D., Clearinghouse for Military Family Readiness
2:55 PM – 3:25 PM
In Your Community: The Mid-Atlantic and Northeast Discussion
Panelists:
Christy Kenady, ServingTogether
Natasha Bugey, Mission United, South Hampton Roads
David Dos Reis, RIServes
Amauri Espinal, NYC Veterans
Aaron Melius, PAServes
3:25 PM – 3:30 PM
Closing Remarks
Provided by ServingTogether, a Program of EveryMind.
Who?
Registered AmericaServes Network Users in the Mid-Atlantic & North East Regions (ServingTogether in the National Capital Region, Mission United of South Hampton Roads, RI Serves, and PA Serves of Greater Pittsburgh, VetConnect NYC | NYC Veterans). Staff and team members within the organization are encouraged to join this event. Individuals working with or supporting military and veterans in the Mid-Atlantic & North Eastern Region are also invited to participate.
Cost?
This workshop is provided free of charge, as part of the Mid-Atlantic & North East Regional Community of Practice Champion initiative.
Where?
This workshop will be offered virtually through a live webinar option.
When?
Monday, June 14, 2021
1 pm – 3:30 pm EST
Continuing Education: 2 Credit Hours
EveryMind will provide continuing education certificates to those in attendance for the entire seminar, after which attendees may collect their certificates.
EveryMind is authorized by the Board of Social Work Examiners in Maryland to sponsor social work continuing education learning activities and maintains full responsibility for this program.  This training qualifies for Category I continuing education units.
EveryMind has been approved by NBCC as an Approved Continuing Education Provider, ACEP #5796. Programs that do not qualify for NBCC credit are clearly identified. EveryMind is solely responsible for all aspects of the program.
Registration:
Reservation required. Please RSVP to secure your attendance.
Register to Participate Virtually
We will offer this session virtually via Zoom.
Questions?
Please contact Janay Tyler at jtyler@every-mind.org or by phone at 301-679-0882.
Presented by ServingTogether, a program of EveryMind as part of the Regional Community of Practice efforts for the AmericaServes Mid-Atlantic Region. This project was supported under a grant awarded by the Walmart Foundation.