An Evening of Veteran Storytelling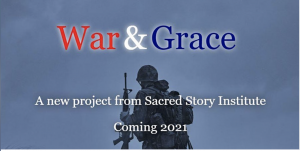 Please join the Veterans-Military Ministry Team and the Sacred Story Institute (SSI) for an evening of storytelling with two combat veterans, Chad S. (U.S. Navy Swimmer with Naval Warfare) and Matt Ingold (USMC Afghanistan veteran) and Sacred Story Institute founder, Father Bill Watson, SJ.
Chad and Matt will read excerpts from their stories and there will be an opportunity to discuss the War and Grace story-writing project. To learn more about Chad, Matt and Father Bill, please visit the Eventbrite page.
When: March 4, 2021 from 7:30-9PM (EST)
Register here