Arcadia Veteran Farm Program Recruiting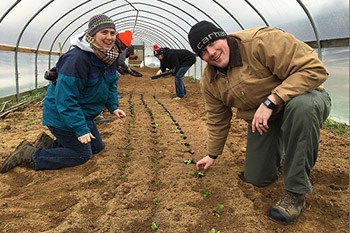 Arcadia Center for Sustainable Food and Agriculture is recruiting for its next class of veterans, active duty and their family members to train in our year-long farmer training program in Alexandria, Va — on land George Washington himself cultivated when he was a veteran.
The Arcadia Veteran Farmer Program is heading into its 5th year of highly effective, veteran and military-only, hands-on training for those considering a future career in agriculture. Of the 77 who have trained with us so far more than a third are wring on farms, operating farms, or are in the process of buying or leasing land to start their new careers.
There are two training tracks:
The Veteran Farm Fellowship, a 9-month, full-time on-farm apprenticeship. It is paid, and Fellows may tap their GI bill housing benefits to supplement their income.
The Veteran Farmer Reserve Program, a year-long training program that combines classroom and hands-on training with business training and field trips to successful farms. It meets one weekend a month, every month. It is tuition based but our funders allow us to be generous with needs-based scholarships.
More Information: http://www.arcadiafood.org/programs/veteran-farmer-program