Armed Forces Day Luncheon – May 24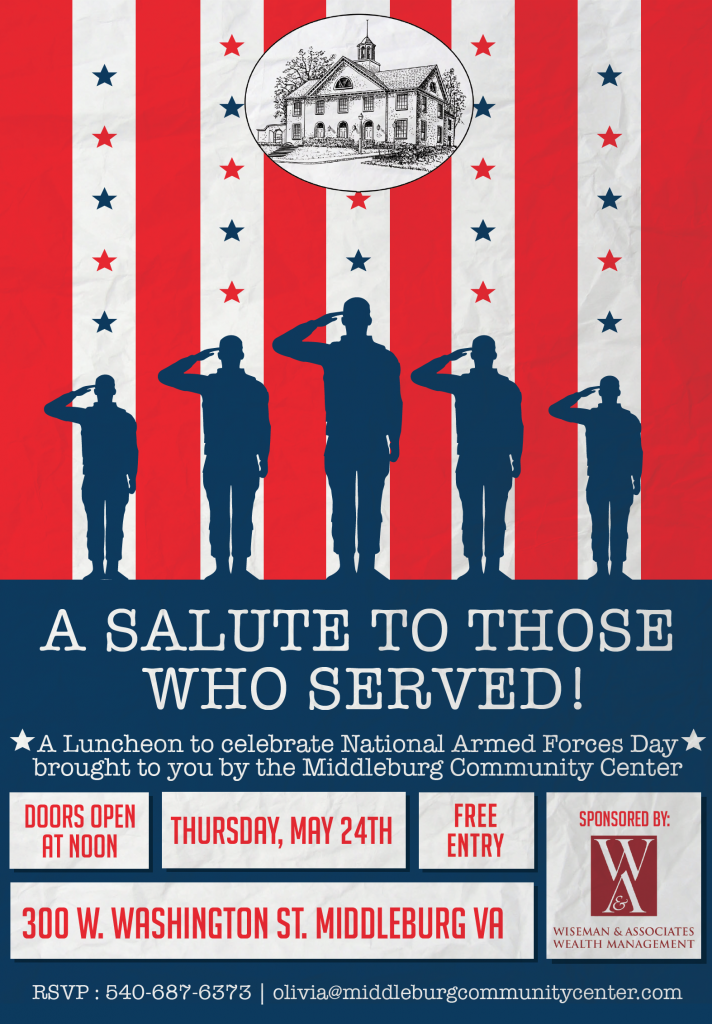 The Middleburg Community Center will be hosting their first ever National Armed Forces Day Celebration. The event will be held on Thursday May 24th from noon – 2pm. Veterans of all eras and their families are invited.
MCC Board Members, Dwight Grant and Tom Wiseman introduced the idea as a way to give back to those that have given their lives to fight for our cherished freedoms. The MCC has held a significant 4th of July Celebration every year for decades to celebrate America's Independence. But with this and the many other diverse events held throughout the year at the MCC, there is not one to specifically celebrate and give back to those who have defended our individual freedoms in this great country. As a salute to our veterans, the Middleburg Community Center is honored to offer this afternoon of food, and entertainment and give you – our local heros – an opportunity to reconnect with other local veterans.
An all-American meal will be served. Entertainment will be provided by The Arcadians – "Recreating jazz of times gone by." 
The MCC is grateful to event sponsor, Wiseman & Associates Wealth Managament. All are welcome, please rsvp to Olivia at (540) 687-6373 or via email at olivia@middleburgcommunitycenter.com.