Army Veteran Overcomes TBI, Climbs Again
SERVING TOGETHER BLOG
Re-posted from original blog by Defense and Veterans Brain Injury Center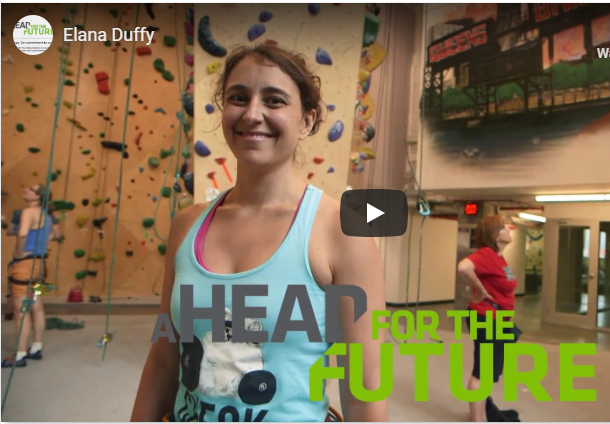 ARMY VETERAN OVERCOMES TBI, CLIMBS AGAIN
U.S. Army veteran Sgt. 1st Class Elana Duffy started rock climbing when she was 14. She climbs to relieve stress. But after her second tour of duty, Duffy had to quit climbing and wasn't sure why — until she learned she had symptoms of a traumatic brain injury (TBI).
Duffy joined the Army to support a cause she valued and find a career that allowed her to work with her hands and mind. She deployed to Afghanistan in 2004 and then to Iraq in 2005. While in Iraq, Duffy experienced a head injury from a roadside bomb. She sought help and received her TBI diagnosis two years later.
Before her diagnosis, Duffy tried to lead her "normal" life. She hid her worries from people, came up with excuses for taking so long to remember names, and lost her ability to concentrate. Eventually she developed migraines, vertigo and cloudy vision, which interfered with daily life and her climbing.
"I knew I had all of these symptoms but didn't put it together," she said. "Was it PTSD? I made an appointment."
Noting Duffy's symptoms and her concussive blast injury, her doctor diagnosed her with a TBI.
"It was reaffirming to hear that I was [going to] be OK," Duffy said.
She took therapy classes that involved physical, memory and concentration exercises.
"I did start noticing the difference, and that alone was worth it to me because I needed something to help start improving me and getting me back to … where I felt functional," she said.
Because climbing wasn't an option, at least initially, Duffy had to find new stress-relief techniques.. With therapy, she slowly began climbing again.
Now, she takes life one day at a time and understands that each day brings challenges. She knows that the climb is tough, but it is possible.
"My advice: Don't stop fighting," Duffy said. "Now I am climbing better than [before] I had to stop!"
Learn more about signs and symptoms of TBI, and visit the stories page to watch videos of service members and veterans who experienced TBI and got help.