Battle for Love and Intimate Relationships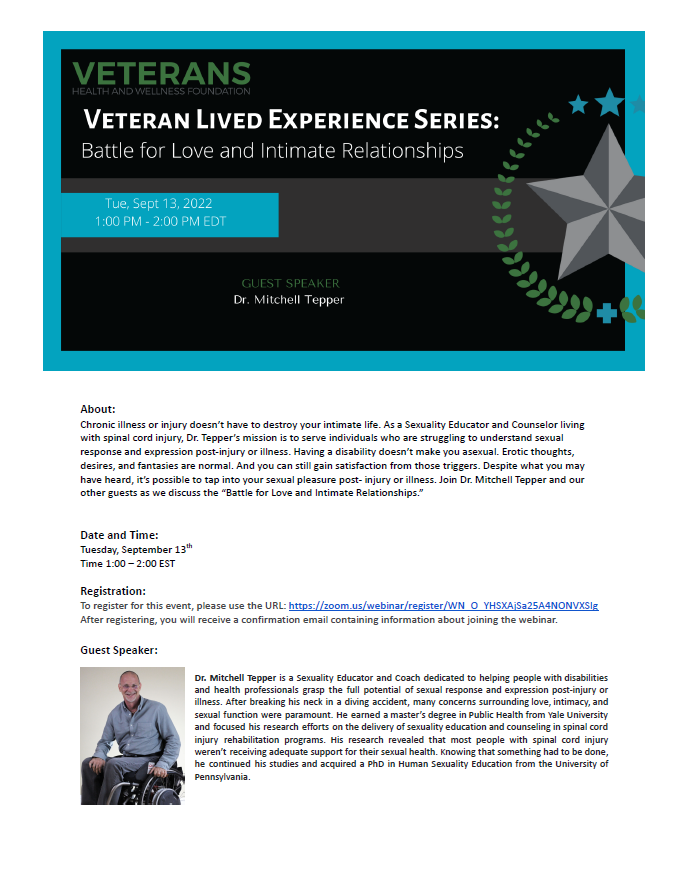 Chronic illness or injury doesn't have to destroy your intimate life. As a Sexuality Educator and Counselor living
with spinal cord injury, Dr. Tepper's mission is to serve individuals who are struggling to understand sexual
response and expression post-injury or illness. Having a disability doesn't make you asexual. Erotic thoughts,
desires, and fantasies are normal. And you can still gain satisfaction from those triggers. Despite what you may
have heard, it's possible to tap into your sexual pleasure post- injury or illness. Join Dr. Mitchell Tepper and
other guests as they discuss the "Battle for Love and Intimate Relationships."
Date and Time:
Tuesday, September 13th
Time 1:00 – 2:00 EST
Registration:
To register for this event, please use the URL: https://zoom.us/webinar/register/WN_O_YHSXAjSa25A4NONVXSlg
After registering, you will receive a confirmation email containing information about joining the webinar.
Guest Speaker:
Dr. Mitchell Tepper is a Sexuality Educator and Coach dedicated to helping people with disabilities
and health professionals grasp the full potential of sexual response and expression post-injury or
illness. After breaking his neck in a diving accident, many concerns surrounding love, intimacy, and
sexual function were paramount. He earned a master's degree in Public Health from Yale University
and focused his research efforts on the delivery of sexuality education and counseling in spinal cord
injury rehabilitation programs. His research revealed that most people with spinal cord injury
weren't receiving adequate support for their sexual health. Knowing that something had to be done,
he continued his studies and acquired a PhD in Human Sexuality Education from the University of
Pennsylvania.