Blue Star Families Welcome Week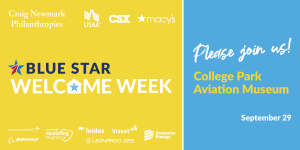 Blue Star Welcome Week Event at College Park Aviation Museum
Blue Star Families welcomes you to the National Capital Region! Join us as we celebrate all that the D.C. area has to offer with a very special Blue Star Welcome Week Family Event at the College Park Aviation Museum.
The College Park Aviation Museum is a 27,000-square-foot, state-of-the-art facility located on the grounds of the world's oldest continuously operating airport in College Park, Maryland. The airport was founded in 1909 when Wilbur Wright came here to give flight instruction to the first military aviators.
This private welcome will include a guided tour of unique aircraft, hands-on activities, and interpretive areas for children of all ages. We are very excited to include a special presentation by NASA Astronaut, Charles F. Bolden Jr. who traveled to orbit four times aboard the space shuttle.
Each family will receive a Blue Star Welcome Week gift bag filled with resources, giveaways, and a movie night family pack from Navy Federal Credit Union in Bowie, MD.
Space is limited. Register today! https://bswwaviationmuseumevent.eventbrite.com