Join Operation Gratitude in Preparing 25,000 Care Pouches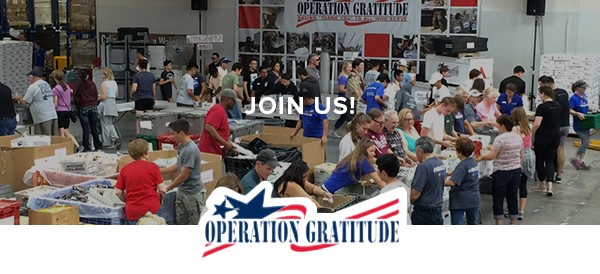 From: Kevin Schmiegel, CEO Operation Gratitude
Together, in partnership with our BRIDGE Council, we will assemble 25,000 Operation Gratitude Care Pouches that will be delivered to Law Enforcement Officers, Firefighters and National Guardsmen serving in our nation's capital and in more than a dozen other cities across America.
When you arrive, you will see production lines set up with hundreds of thousands of items that have been donated by corporations and grateful Americans from all 50 states and the District of Columbia. Volunteers from the Metro DC community will work side-by-side assembling Operation Gratitude Care Pouches filled with these donated items.
We will make our famous Paracord Survival Bracelets, write letters of support, and take time to recognize the heroes who are in the room with us to include several special guests. It will be a high-spirited and meaningful event for everyone who attends, and we hope you can join us!
Here are the details:
     Operation Gratitude Assembly Day
     Thursday, January 17, 2019
11 AM to 1 PM
DC Armory
2001 E Capitol St SE
     Washington, DC 2000

Volunteers age 13 and up are welcome, and registration in advance is required. Please click on the sign-up button below and share this amazing opportunity to serve with your friends and family!