June Veterans Business Council Boot Camp – June 14
JUNE VETERANS COUNCIL BUSINESS BOOT CAMP   
All Are Welcome…
The Prince William Chamber of Commerce's fiscal year ends June 30th so the next and last scheduled Veterans Council meeting for this fiscal year is Thursday, June 14th from 9:00am-11:00am (NOTE: extended timeline) at their Headquarters at 9720 Capital Court, Suite 203 Manassas, VA 20110.
What we have planned is our 2nd Business Boot Camp – Back by popular demand!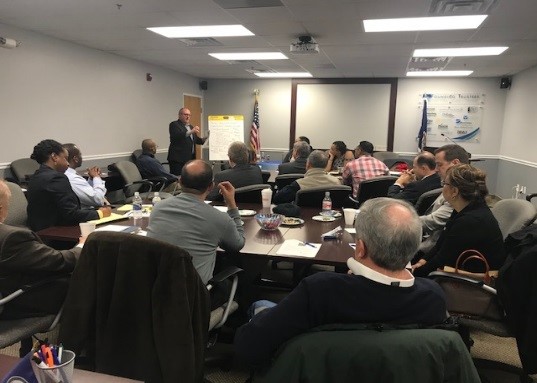 What is the Business Boot Camp? Facilitators lead two groups of Chamber members of the Veterans Council to share their business expertise on ideas and recommendations to help two new Veteran-owned businesses with challenges keeping them from taking their business to the next level.
Those who attended felt the unique format also gave them the opportunity to forge stronger connections with fellow Council members when working on solutions for the new Veteran-owned businesses needing their assistance. The program truly aligns with the Veterans Council tagline as a Veterans Workforce Advocate by members being a mentor for Veterans transitioning to the civilian workforce.
What We Still Need: We have confirmed 1 of the 2 Veteran-owned business, so we're looking to find 1 more Veteran-owned business. If you or a business you know would be interested in receiving help on a challenge they are facing, please contact me.
 ~~~~~~~~~~~~~~~~~~~~~~~~~~~~~~~~~~~~~~~~~~~~~~~~~~~~~~~~~~~~~~~~~~~~~~~~~~~~~~~~~~~~~~~~~~~~~~~~~~~~~~~~~~~~~~~~
Comments from the Participants:  "We sincerely thank the Chamber for facilitating the event last March. Great insights from your members and many takeaways for us to follow up on." Bruce V. Browne, President (Army – Service Disabled Veteran), ABUCORE
 "With these two businesses, we could tell that they had information to get their business off of the ground, but just didn't know where exactly to start. This type of meeting would be useful for anyone to get a leg up in their business and to learn from successful business owners first-hand." Amina Evans & Serene Mitchell, Contract Solutions, Inc.
Point of Contact: 
Suzanne C. Lewis
Director of Community Outreach
Prince William Chamber of Commerce
9720 Capital Ct., Suite 203; Manassas, VA 20110
Direct: 571-765-7753 Email: slewis@pwchamber.org