Learn What Veterans Know This Mental Health Month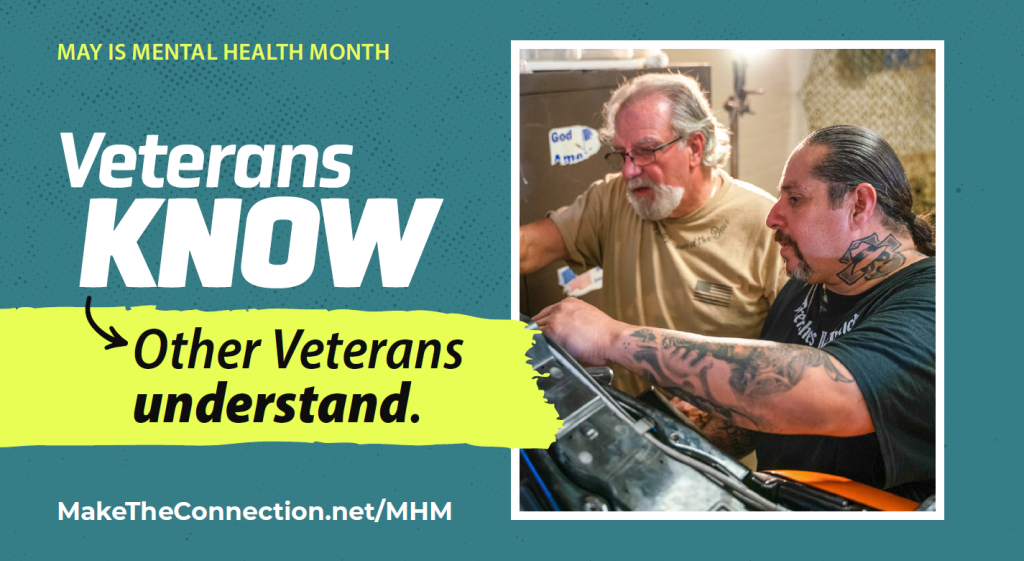 Veterans can take many different paths toward improving their mental health, but for many that journey begins when they connect with a fellow Veteran. Veterans who are facing life challenges tend to trust each other, bonding over the common experiences they share.
"It doesn't matter what you've been through; you just work through it together," explains Kelly, a Veteran of the U.S. Marine Corps. "[It's] very empowering."
This year, VA's annual Mental Health Month campaign, Veterans Know, demonstrates and leverages the mutual respect, understanding, and caring among Veterans. Throughout May, visitors to MakeTheConnection.net/MHM will find powerful messages of hope and encouragement from Veterans for Veterans and their supporters.
Veterans offer advice based on their experience and discuss the various ways they have improved their mental health. "If we survived combat, then we owe it to the new generations to help them survive the rest of their lives," says Gordy, a U.S. Army Veteran.
The campaign invites Veterans to learn some important things that other Veterans Know, including inspirational ideas to keep in mind, such as:
Barriers can be broken.
It can get better.
Connection is key.
You can get through it.
Support helps with healing.
It's never too late to start healing.
This May, visit MakeTheConnection.net/MHM to learn more about mental health and healing from Veterans who know, because they've been there.