Into the Light Live Events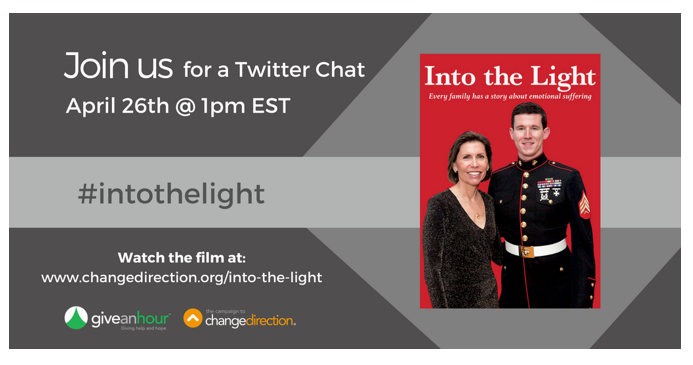 Tuesday, April 3rd at 12 PM EST
For a Facebook Live event with Barbara Van Dahlen, founder and president of Give an Hour, discussing Into the Light.
Thursday, April 26th at 1 PM EST
For a Twitter Chat with Barbara Van Dahlen and Brendan O'Toole about Into the Light.
Let's have a conversation about mental health!
Into the Light focuses on both Brendan O'Toole, a former Marine, and his struggle to assimilate back into society after returning from war, and Dr. Barbara Van Dahlen, as she comes to the realization that she needs to share her own story.
Watch Into the Light-free on our website: www.changedirection.org, or host a screening; check out our discussion guide to help you lead your own conversation about mental health.
Beginning in May, PBS stations will be showing the film nationwide, but we wanted to show it to you first!