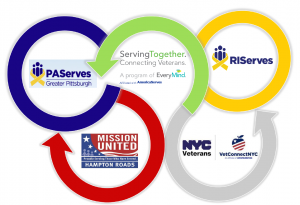 Supporting Our Veterans: Trauma and Cognitive Processing Therapy
Wednesday, March 3, 2021
1 pm – 3 pm EST
The Mid-Atlantic & North East Regional Community of Practice presents the seventh Regional Community of Practice training event for our AmericaServes network users and providers in Rhode Island, New York City, Greater Pittsburgh, the National Capital Region, and larger South Hampton Roads communities.
This workshop is FREE of charge to you and your staff within your organization.
This will be a completely virtual training and we encourage you to join us to strengthen your ability to support the military and veterans in your community.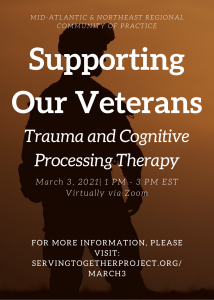 This forum is dedicated to training AmericaServes network users on addressing trauma, PTSD & Cognitive Processing Therapy in the military and veteran population.
Agenda
1: 00 PM – 1:05 PM
Introductions
Provided by ServingTogether, a Program of EveryMind.
1:05 PM –  2:55 PM
Introduction to PTSD and CPT
Presented by
Dr. Heidi Kraft, Chief Clinical Officer, PsyschArmor Institute
Dr. Carie Rodgers, Chief Progam Officer, PsychArmor Institute
Click Here to Learn More About Our Presenters
Learning Objectives
Discuss the DSM-5 requirements for Criterion A, the traumatic event, in the diagnosis of PTSD.
Describe clinical examples of each of the four symptom categories for PTSD diagnosis:
Re-experiencing symptoms
Avoidance symptoms
Alterations in cognition and mood symptoms
Alterations in arousal and reactivity symptoms
Explain the concept of evidence-based treatment for PTSD and list several current treatment protocols considered evidence-based.
Discuss the importance of psychopharmacology as part of the possible treatment plan for patients with PTSD.
Describe three common comorbid conditions seen with PTSD, and discuss the clinical importance of addressing these.
Describe the theory underlying CPT.
Understanding the structure of the CPT protocol.
Describe the evidence that supports the efficacy of CPT.
2:55 PM – 3:00 PM
Closing Remarks
Provided by ServingTogether, a Program of EveryMind.
Who?
Registered AmericaServes Network Users in the Mid-Atlantic & North East Regions (ServingTogether in the National Capital Region, Mission United of South Hampton Roads, RI Serves, and PA Serves of Greater Pittsburgh, VetConnect NYC | NYC Veterans). Staff and team members within the organization are encouraged to join this event. Individuals working with or supporting military and veterans in the Mid-Atlantic & North Eastern Region are also invited to participate.
Cost?
This workshop is provided free of charge, as part of the Mid-Atlantic & North East Regional Community of Practice Champion initiative.
Where?
This workshop will be offered virtually through a live webinar option.
When?
Wednesday, March 3, 2021
1 pm – 3 pm EST
Continuing Education: 2 Credit Hours
EveryMind will provide continuing education certificates to those in attendance for the entire seminar, after which attendees may collect their certificates.
EveryMind is authorized by the Board of Social Work Examiners in Maryland to sponsor social work continuing education learning activities and maintains full responsibility for this program.  This training qualifies for Category I continuing education units.
EveryMind has been approved by NBCC as an Approved Continuing Education Provider, ACEP #5796. Programs that do not qualify for NBCC credit are clearly identified. EveryMind is solely responsible for all aspects of the program.
Registration:
Reservation required. Please RSVP to secure your attendance.
Register to Participate Virtually
We will offer this session virtually via Zoom.
Questions?
Please contact Janay Tyler at jtyler@every-mind.org or by phone at 301-679-0882.
Presented by ServingTogether, a program of EveryMind as part of the Regional Community of Practice efforts for the AmericaServes Mid-Atlantic Region. This project was supported under a grant awarded by the Walmart Foundation.