MCB Quantico Retiree Appreciation Day – Oct 12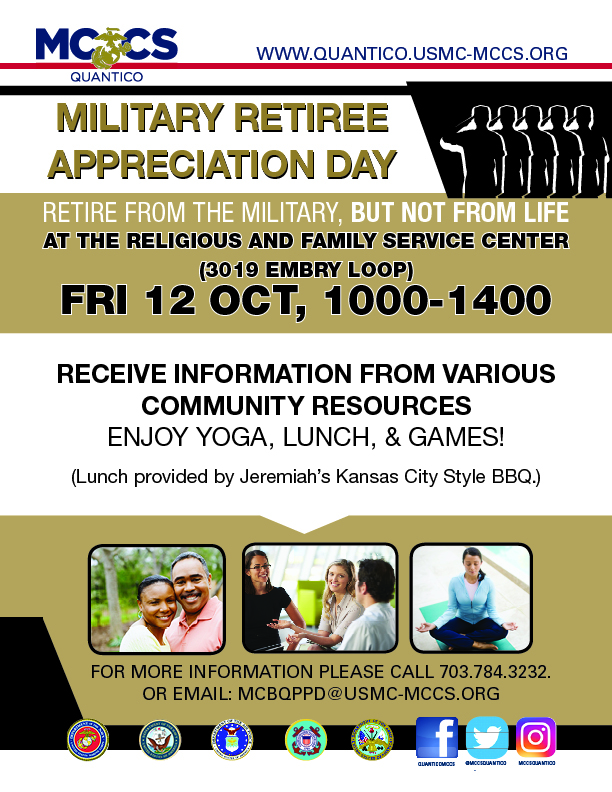 MCB Quantico will be holding their Annual Military Retiree Appreciation Day on Friday, October 12 from 10 am – 2 pm at the Religious and Family Services Center.
Receive information from various community resources. Enjoy games, contests, and prizes, and bring your resume for a mini job fair! For more information, please call (703) 784-4963 or e-mail mcbqppd@usmc-mccs.org.
Agenda
1030 – Invocation
1035 – Welcome
1000-1400 – Information Tables/Activities
1000-1400 – Door Prizes
1045 and 1300 – BINGO Game
1130-1200- Presentation/Q&A – GEHA – New Dental Plan
1200-1300 – Lunch
1240- Presentation/Q&A – Humana Military – Tricare Updates
ACTIVITIES
Spin-the-Wheel (prizes awarded)
Photo Booth- Free Photos on Site
BINGO- 1045; 1240 – 3 games per session (prizes awarded)
Semper Fit- Yoga Demonstration
Golf Putt-Putt Challenge (prizes awarded)
Jeremiah's Kansas City Style BBQ
Photos by Rick Butler
Information Tables
AAFMAA Wealth Management, Financial Planning & Trust Services
Depart of Veteran Affairs VocRehab Information
GEHA New Dental Plan Services
Humana Military Tricare
Long Term Care Partners Long Term Care Insurance
Marine For Life One-Stop Resource for Veterans
MCCS Semper Fit Health Promotions
MCCS Semper Fit Nutritionist
Navy Mutual Aid Association Veterans Benefits and Insurance
Navy-Marine Corps Relief Society
OmniRide Commuter and EZ-Pass Info
Personal & Professional Development Resume Review and Education & Training Benefits
Programs
Red Cross
Serving Together One-Stop Community Resource for Veterans
Social Security Administration (SSA)
The Club at Quantico (TCAQ) Catering and Events Center
United Health Care Vision Program for Military Retirees
USAA Investments & Retirement, Insurance, Banking
Virginia Department of Veteran Services State Veteran's Benefits