Meeting the Behavioral Health Needs of Older Veterans and their Caregivers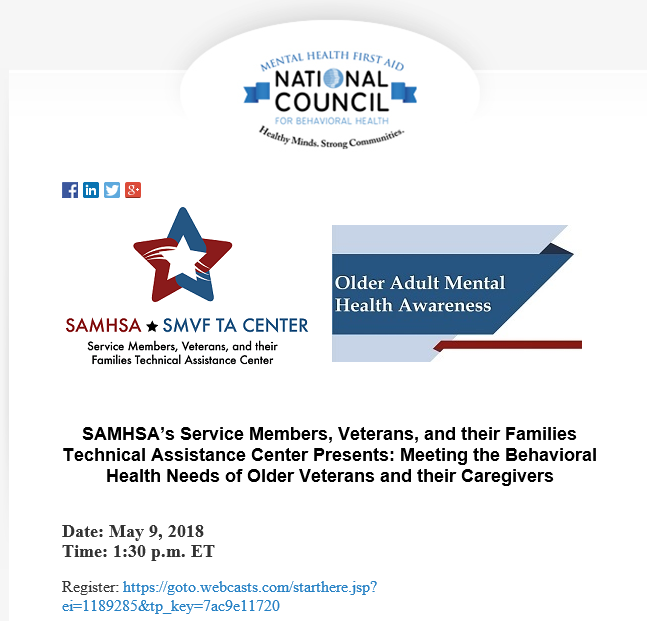 Within our communities, we have a growing number of aging veterans and people who are serving as their caregivers.  Aging veterans have unique physical, emotional, and behavioral health conditions that often require specialized care.  These issues may emerge unexpectedly, in the midst of life transitions or as a result of a pre-existing condition, leaving the caregiver unprepared and unsure of how to access needed support.
Research has shown that aging veterans with disabilities, when compared with the general population, have significantly higher rates of mental health issues, substance abuse, hearing and vision problems, and chronic physical impairment.  Veterans over the age of 65 face an increased risk of suicide.  In rural communities, where distance may be a barrier to healthcare services, family members, friends, and peers often provide care and support to veterans.  This care may result in emotional, physical, and financial stress on caregivers.
This webinar will convene representatives from the U.S. Department of Veterans Affairs and the Veteran and Family Support Program to explore strategies and initiatives available to communities and caregivers.  The presenters will highlight peer support resources, caregiver respite options, and opportunities for partnering with veterans service organizations, military caregivers and family associations, and faith communities.  With these approaches, communities can bolster their support of aging veterans and their caregivers.
Learning Objectives
Provide an overview of the behavioral health needs of aging veterans, including unique characteristics and risk factors
Discuss the roles and specialized needs of caregivers of aging veterans
Describe some of the leading initiatives that have been implemented to support aging veterans and their caregivers
Identify available training and resources that communities can use to support caregivers of aging veterans in their community
Presenters
Meg Kabat L.C.S.W.-C., C.C.M. | National Director, Caregiver Support Program, U.S. Department of Veterans Affairs
Carol Berg, M.A. | Interim State Director and East Region Director, Virginia Veteran and Family Support, Virginia Department of Veterans Services
Moderator
Donna Aligata, R.N.C. | Project Director, SAMHSA's Service Members, Veterans, and their Families Technical Assistance Center, Policy Research Associates, Inc.
Target Audience
Representatives serving service members, veterans, and their families from state, territory, and tribal behavioral health systems; community health care providers; suicide prevention coordinators; mental health and addiction peers; military family coalitions and advocates.
Register for the webinar today.
Please note:
Participants will only be able to hear the webinar through their computer via headphones or speakers
Participants are asked to test their system before the broadcast
The webinar archive will be made available to registrants after the webinar
Continuing education units are not available for this webinar
If you have any questions about your registration, please contact Philip Paty at (518) 439-7415, ext. 5272, or by email at ppaty@prainc.com.