Mental Health First Aid for Veterans – Aug 23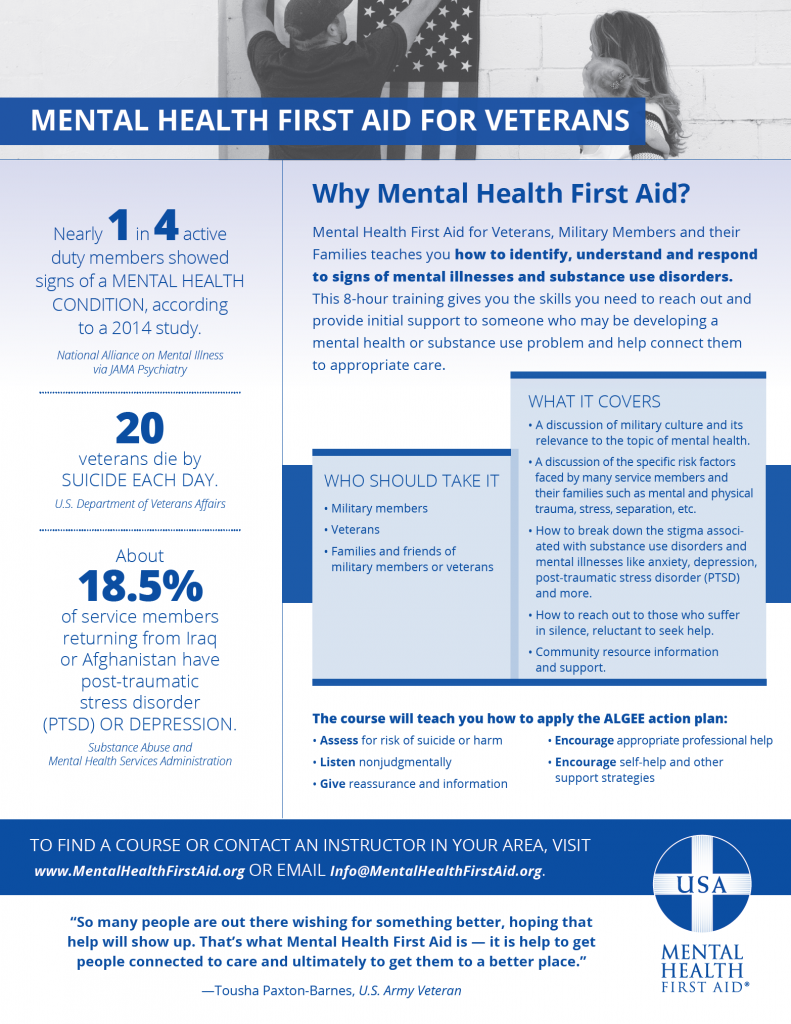 Mental Health First Aid for Veterans
1-day Training
Thursday, August 23, 2018
8:30 AM-5:30 PM
Sudley North Government Center (7987 Ashton Ave, Jean McCoy Room, Manassas, VA 20109)
This FREE 8 hours course MENTAL HEALTH FIRST AID FOR VETERANS
Mental Health First Aid for Veterans, available beginning April 2014, focuses on the unique experiences and needs of the military, veteran and family population.
Family members and personnel working with military and families are often not aware of how to engage veterans with mental illnesses and addictions.
In addition to the impact of military service on the veteran, each has a circle of family (significant other, children, parents, siblings, etc.) and friends who are also impacted by their military service. Individuals trained in Mental Health First Aid for Veterans can help to:
Break down the stigma associated with mental illness like anxiety, depression, post-traumatic stress disorder (PTSD), schizophrenia, bipolar disorder, and substance use disorders
Reach out to those who suffer in silence, reluctant to seek help
Let veterans know that support is available in their community
Provide community resource information
Make mental healthcare and treatment accessible to thousands in need
For more information, visit www.MentalHealthFirstAid.org
Participants are expected to sign in and out, attend the entire program, and complete an evaluation. No partial credits will be awarded.