Military Hiring Event – Mar 27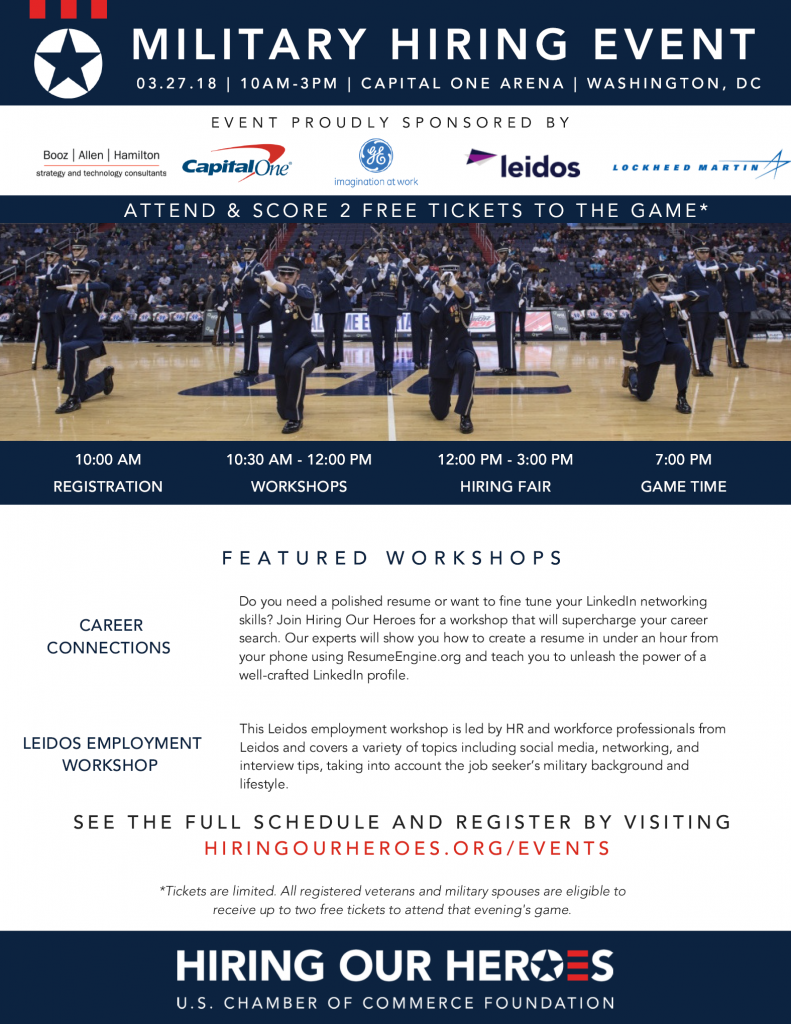 At Hiring Our Heroes' Washington DC Hiring Expo with the Washington Wizards, you're invited to connect directly with recruiters and hiring managers from local and national companies of all sizes.
All registered veteran and military spouse job seekers who attend the hiring expo are eligible to receive up to two free tickets to attend the evening's game between the Wizards and the San Antonio Spurs.
This event is free and is open to active duty service members, Guard and Reserve, veterans, and military spouses.
Tuesday, March 27, 2018 – 

10:00am

 to 

3:00pm
Capital One Arena
601 F Street NW
Washington , DC 20004
Employers: Learn how to make the most of Hiring Our Heroes events here.
EVENT SCHEDULE
10:30 a.m. – 12 p.m.   Career Connections Workshop
Do you need a polished resume or want to fine tune your LinkedIn networking skills? Join Hiring Our Heroes for a workshop that will supercharge your career search. Our experts will show you how to create a resume in under an hour from your phone using ResumeEngine.org and teach you to unleash the power of a well-crafted LinkedIn profile.
10:30 a.m. – 12 p.m.   Job Seeker Workshop, powered by Leidos
This employment workshop is led by HR and workforce professionals from Leidos and covers a variety of topics including social media, networking, and interview tips, taking into account the job seeker's military background and lifestyle.
12 – 3 p.m.   Hiring Fair
REGISTRATION
► Employers and Service Organizations: Register here.
► Job Seekers:  Register here.
Why register? Job seekers can upload their resumes to be viewed by employers ahead of the event.
If you have any other questions, please visit our FAQ page.
NEED A POLISHED RESUME?
Resume Engine is the quickest and easiest way to send your resume to employers at the hiring expo. Translate your military experience and build a powerful resume today at ResumeEngine.org.
ABOUT THIS EVENT
This hiring event is being conducted by the U.S. Chamber of Commerce Foundation, the Department of Labor Veterans' Employment and Training Service (DOL VETS), the U.S. Department of Veterans Affairs, the American Legion, Goodwill Industries International, NBC News, and other local partners. For more information on our hiring events, click here.