Operation Second Chance / Heroes Ridge at Raven Rock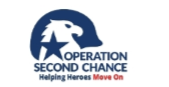 Operation Second Chance is proud to share Heroes Ridge at Raven Rock
ESTABLISHED 2020 this 275 Acre property across MD and PA features 4 cabins, including 2 ADA accessible, Barn and horses, 20' x 50' saltwater pool, Full basketball court, Football field, Gym, Dining hall, Recreation room, Hiking trails, Playground, ATV riding: 2 ATVs and a 6 seater Polaris Fishing, A historical home, Fire pit and Awe-inspiring views. More info – visit: https://operationsecondchance.org/raven-rock/
Operation Second Chance is a dedicated group of patriotic citizens committed to serving wounded, injured and ill combat veterans. They support Veterans and their families by building relationships and identifying and supporting the immediate needs and interests while promoting public awareness of the many sacrifices made by
members of the Armed Forces. Veterans are supported from meals, cookouts and entertainment to morale building retreats and financial assistance for individual wounded soldier's expenses including utilities, mortgage payments, medical equipment, grocery gift cards, clothing, travel and car repairs.
Operation Second Chance began in 2004 with the kindness of Cindy McGrew, CEO and Founder. Cindy came to the Walter Reed National Military Medical Center giving her support to seven injured soldiers and their families. Operation Second Chance has now provided over $9 million worth of assistance and support because of the generosity of the Americans these heroes protect.
https://operationsecondchance.org/