Power Breath Meditation Workshop – Feb 22-26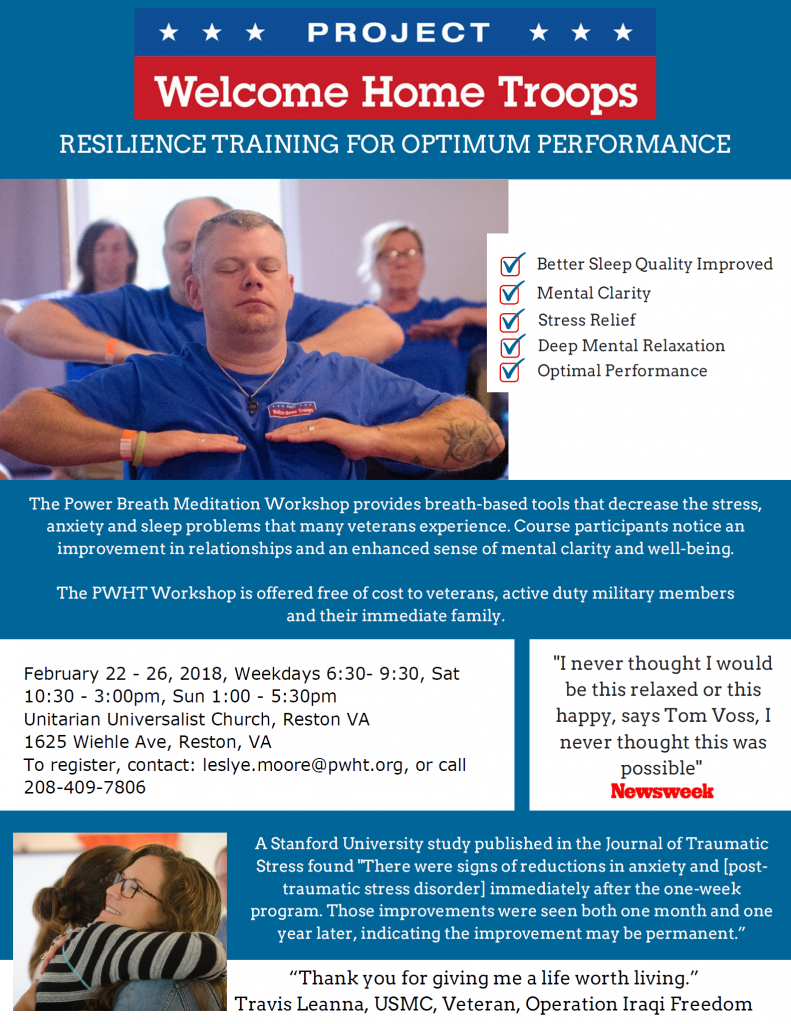 Project Welcome Home Troops will be conducting a Power Breath Meditation Meditation Workshop in Reston February 22-26. This is a FREE workshop for veterans. Especially those dealing with stress, anxiety and sleep problems.
There are still slots available. If interested, you need to complete a registration form which is a fillable PDF form – you may save it as a document and email it to their national director, leslye.moore@pwht.org, or fax to Leslye Moore's private fax at 208-694-0421.  One may also print the form and complete by hand and scan or send a photo of it to leslye.moore@pwht.org. All of the information on your form is kept confidential and is only used by the teachers of the workshop for the purpose of learning a bit about you and helping us make sure you have the best experience and outcome during the workshop.
---
As displayed in the documentary Almost Sunrise that aired on PBS, they are having a 5-day Power Breath Workshop that is free for veterans (whether serving in combat or not) and their immediate family members. They are volunteers for the International Association for Human Values (IAHV) and are looking to have the first Project Welcome Home Troops (PWHT) course in Reston, VA from Feb 22-26.
For more on the course, see the following:
If you have any questions or concerns, please contact:
Stewart Reid
Volunteer
Project Welcome Home Troops
240-393-6858
www.pwht.org