Information in this guide found at the National Archives.
Certificate of Release or Discharge From Active Duty (DD Form 214)
What is a DD Form 214?  Why do I need one?
A  DD Form 214 proves military service.  Obtaining a copy is essential if you want access to many of the benefits and services available to you.  Often referred to as the Report of Separation (freedom documents, promotion to Mr. or Ms. citation, authorization for liberal grooming standards, etc…), this document contains very important information necessary for accessing benefits, retirement, employment, and membership in Veterans Service Organizations.
The information displayed on a DD-214 includes:
Date and place of entry into active duty
Home address at time of entry
Date and place of release from active duty
Home address after separation
Last duty assignment and rank
Military job specialty (MOS)
Military education
Decorations, medals, badges, citations, and campaign awards
Total creditable service
Foreign Service credited
Separation information: type of separation (ex: honorable), character of service, authority and reason for separation, separation and reenlistment eligibility codes).
Before January 1, 1950 several similar forms were used, including the WD AGO 53, WD AGO 55, WD AGO 53-55, NAVPERS 553, NAVMC 78PD, and the NAVCG 553.
What does a DD 214 look like?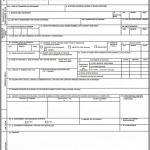 Who can make the request?
Veterans and next-of-kin of deceased veterans have the same access rights to the record.  The next-of-kin is defined as any of the following:
the un-remarried widow or widower
son
daughter
father
mother
brother or sister
In the event a next-of-kin is making the request, proof of death of the veteran must be provided.  Acceptable proof include: a death certificate, a letter from the funeral home, or a published obituary.
Requesting a Copy:
Online: eVetRecs
Follow the online instructions.  There are also other available online requests through the archives website such as requesting medals.
Hard Copy Request Form: Mail or Fax Standard Form SF-180
The SF-180 is the recommended method for requesting your records.  Provide as much information as possible and send copies of any service documents available- this will help the process and leave little room for error.
Information you will need:
Complete name of veteran as used in service
Service number and/or Social Security Number
Branch of Service
Dates of Service
Date and place of birth may be helpful, especially if the Service Number is unknown
For records affected by the 1973 Fire, also include: Place of discharge, last assigned unit, and place of entry into service, if known.
Authorized Third Party Requesters: lawyers, doctors, historians, etc., may submit requests for information from individual records with the veteran's, or next-of-kin's, signed and dated authorization.  State their relation to the individual and the purpose of the request.  All authorizations should specify exactly what the veteran (or next-of-kin) is allowing to be released to a third party.
With the Veteran or Next-of-Kin's authorization:
The veteran (or next-of-kin if the veteran is deceased) must authorize the release of any information available to the public.  Make sure you double check through the deceased documents as a copy may already be there.  If providing authorization, the authorization must 1) be in writing, 2) specify what additional information or copies that the NRPC may release and 3) include the signature of the veteran or next-of-kin.
Without the Veteran or Next-of-Kin's authorization:
The NPRC can only release limited information.  For more information click here.
Emergency Requests and Deadlines:
If your request is urgent (e.g. upcoming surgery, funeral, etc.) and there is a deadline associated with your request, please provide this information in the "Comments" section of eVetRecs or in the "Purpose" section of the SF-180 form and fax it to the Customer Service Team at (314) 801-0764.
If your burial request involves internment at a Department of Veterans Affairs National Cemetery, contact the National Cemetery Scheduling Office at (800) 535-1117 or click HERE.
If the veteran is not going to be interned at a National Cemetery, the requester may fax the SF-180 or signature page from eVetRecs (including signature of the next of kin and proof of death) to the Customer Service Team at (314) 801-0764).
If you request involves the burial of a Marine Corps veteran, you may also contact the USMC Liaison Officer at (314) 538-2344 or click HERE
If you need help or immediate assistance completing your request call:
National Personnel Record Center:
(314) 801-0800
E-mail: MPR.center@nara.gov
For Status Checks (beyond 90 days from request): mprstatus@nara.gov