Don't Forget to Register: Serving the Unique Needs of Minority Veterans and Sub-Populations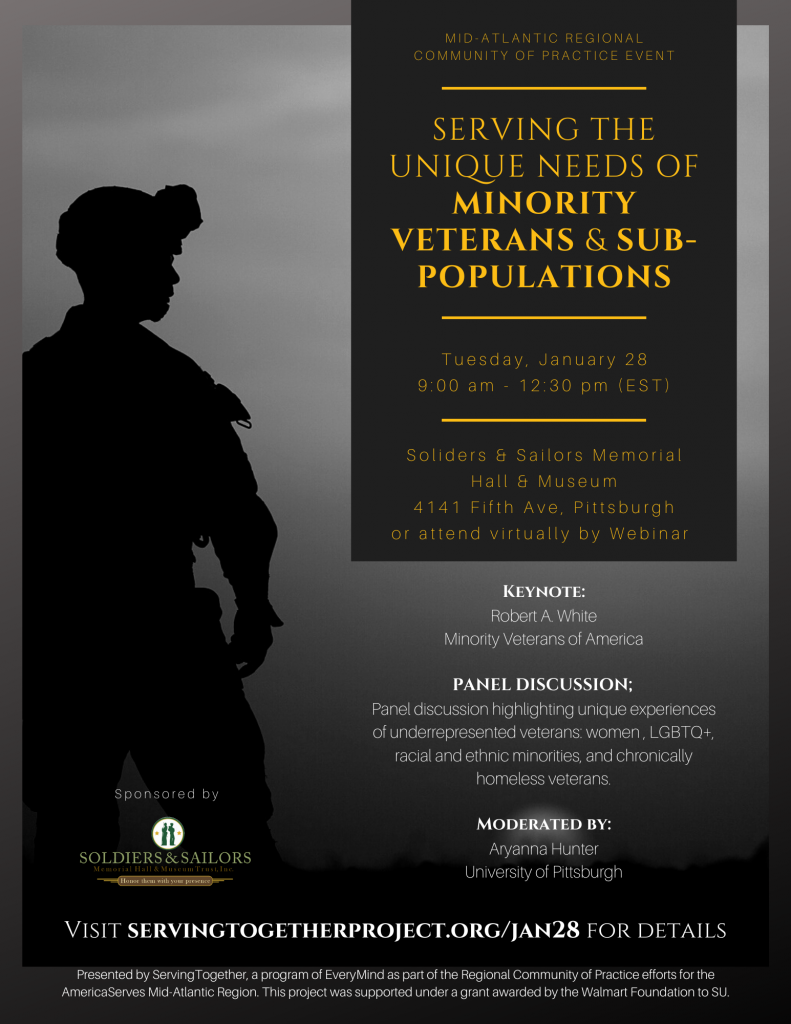 Serving the Unique Needs of Minority Veterans and Sub-Populations
Tuesday, January 28
9:00 am – 12:30 pm EST
This forum is dedicated to training AmericaServes network users on how to better serve our underrepresented veterans, uncover areas of stigma and identify best practices in supporting their needs in the community. Our keynote and panel discussion will highlight the unique experiences of underrepresented veterans: women, LGBTQ+, racial and ethnic minorities, and chronically homeless veterans
Agenda
9:00 am – 9:15 am:    Introductions
ServingTogether, a program of EveryMind
PAServes
Allegheny County Veterans Services
9:15 – 10:00 am:    Engaging Minority and Underrepresented Veteran Communities
Robert A. White, Director of Community Impact, Minority Veterans of America
10:00 am – 12:15 pm:     Uncovering Areas of Stigma and Identifying Best Practices in Supporting Underrepresented Veterans
Moderated by: Aryanna Hunter, Director, University of Pittsburgh – Office of Veterans Services
Panelists:

Patti Gerhauser, Veterans Leadership Program
Timothy M. Jones, Veterans Leadership Program
Robert A. White, Minority Veterans of America
Who Should Attend?
Registered AmericaServes Network Users in the Mid-Atlantic Region.
Staff and team members within the organization are encouraged to attend.
Individuals working with or supporting military and veterans are also invited to participate.
Cost?
Free
Where?
This workshop will be offered in person, but also virtually through a live webinar option.
This event will be held in person at: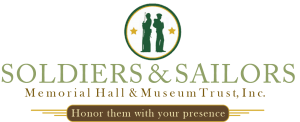 Soldiers & Sailors Memorial Hall & Museum
4141 Fifth Ave, Pittsburgh, PA 15213
For additional information, visit:
servingtogetherproject.org/jan28
Presented by ServingTogether, a program of EveryMind as part of the Regional Community of Practice efforts for the AmericaServes Mid-Atlantic Region. This project was supported under a Grant awarded by the Walmart Foundation to SU.