ServingTogether Social Media / Data Collection & Analytics Interns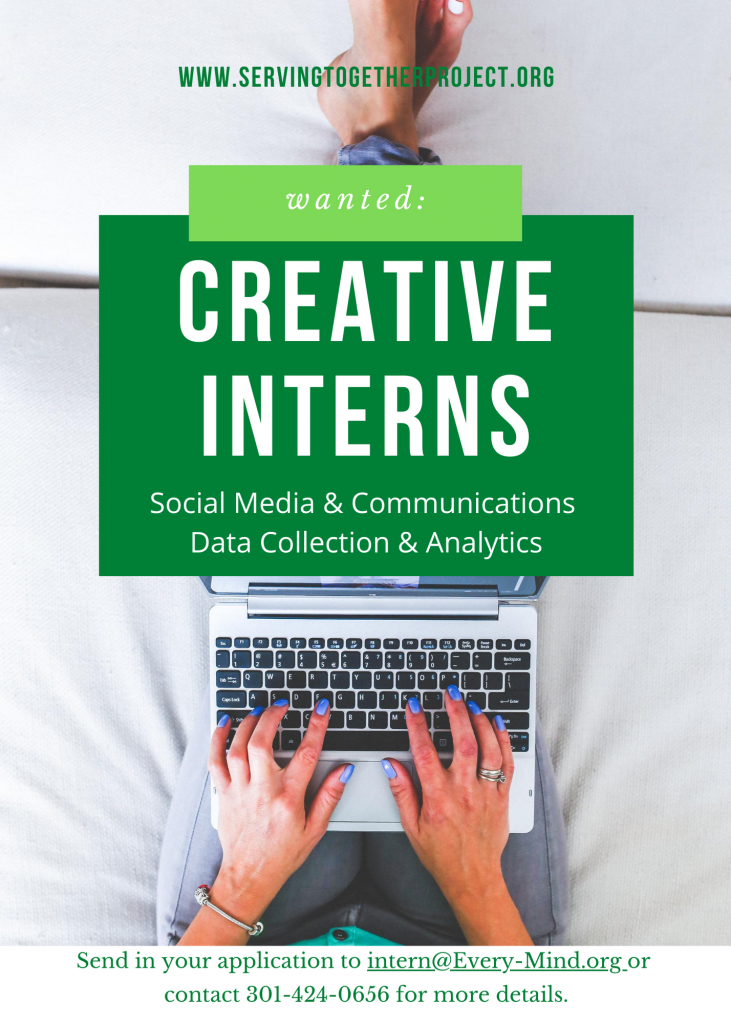 ServingTogether is looking for Creative and Passionate Interns for
-Social Media & Communications
-Data Collection & Analytics.
Commitment: 8-10 hours a week.
Complete application at: https://www.every-mind.org/get-involved/internships/
Questions or more information, contact: intern@every-mind.org
Social Media & Communications Intern
ServingTogether is seeking a creative and well-organized intern to assist with social media, website content management, and newsletter creation. This position will also allow for provider and client outreach in the community and virtually.  Schedule can be flexible with some remote work possible.
The internship will provide fellows with an opportunity to develop the following skill sets:
Development of bi-monthly newsletter with relevant and captivating content
Assist with day-to-day website management for ServingTogetherProject.org using WordPress
Assist with managing social media accounts (Facebook, LinkedIn, Twitter)
Database maintenance and list management
Assisting with guest blogger recruitment
Monitor news
Research
Ideal Candidate:
-Highly collaborative and confident leading projects
-Experience and solid understanding of social media marketing
Commitment:
-8 to 10 hours a week dedicated towards building a social media campaign plan and portfolio
-Campaigns built per 7-day blocks
Desired Outcome:
-Grow social media presence and build cohesive portfolio to use across all social media platforms
-Determine marketing methods for future goals
Contact: Rameela Tuladhar at rtuladhar@every-mind.org
Data Collection & Analytics Intern
ServingTogether is seeking a well-organized and analytical intern to assist with Data Collection and Analytics. Interns at EveryMind gain valuable learning and working experience at a leading mental health and human services nonprofit. Our goal is to make every intern who works with us feel included, valuable, and productive. You will have the opportunity for hands-on experience working and developing your own projects while participating in weekly team calls and monthly workshops with the Institute of Veteran and Military Families out of Syracuse University.
APPLICANT REQUIREMENTS
The internship opportunities are open to current students of a college program, or within 2 years of graduating. Applicants must be eligible to work within the United States and have all documentation at the time of their application, including a Social Security Number.
POSITION SUMMARY
Perform analysis using the information submitted by the regional organization and present conclusions and recommendations on how to improve organizations performance. Follow up on information delivery for mentioned proposals and reports. Consolidation of the information. Reporting and proposal template development (proposal for regional projects to corporate partners, reports to regional network, impact and communications reports to corporate partners and senior leadership), reports to Program Director.
PRIMARY PROJECTS
Create recommendations based on the information submitted by staff and mined from case management software
Standardization of regional proposal and reporting to corporate partners
Systematization of the collection of information across regions
REQUIRED SKILLS
Analytical and strategic thinking
Creative
Excel, PowerPoint, digital tools for shared information management
Speak/understand Spanish
PREFERRED SKILLS
PERKS
Chance to meet and work with top nonprofit experts in the mental health and military/veteran space
LOCATION All Fall 2020 internships will be remote.
TIME FRAME 8-10 hours a week