Stepping Forward in Grief Study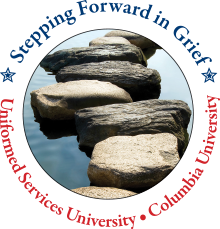 Stepping Forward in Grief
Participants are now being sought for a new study, Stepping Forward in Grief, which was motivated by key findings from USU's National Military Family Bereavement Study (NMFBS), the first large scientific study on the impact of U.S. service member death on surviving family members. NMFBS findings suggest that surviving family members who have experienced the loss of a service member may benefit from help managing their loss and grief with programs that recognize their unique experience as military family members.
As a result, the Uniformed Services University of the Health Sciences (USU) and Columbia University's Center for Complicated Grief (CCG) are collaborating on Stepping Forward in Grief, comparing two innovative digital programs focused on loss, grief and wellness to help bereaved military families.  Following two years of digital program development, the study is now open for participant recruitment.  The study is recruiting spouses, ex-spouses, adult partners, children, siblings, or parents (biological, step, or foster), age 18 or older, of a service member who died on or after Sept. 11, 2001, while serving in the military or as a result of their military service.  Additional eligibility requirements, enrollment procedures and information about how the study is being conducted can be found at the Stepping Forward in Griefwebsite: http://steppingforwardstudy.org/.
The digital programs are GriefSteps and WellnessSteps.  GriefSteps is based on a model of grief therapy that has been used successfully with people with complicated grief. Modules include information and suggested activities to foster restoration processes that are associated with successful adaptation to loss. WellnessSteps provides information and suggested activities to foster general health and wellness, including stress-management and health maintenance that have been shown to be helpful for reducing distress.  Participants in both programs can message a program "guide" who is available to answer questions and share observations about the program.
"As a retired military psychiatrist, I look forward to testing how these digital programs help bereaved military family members with loss, grief and wellness. We are pleased that over two hundred have already signed up to participate," said retired Army Col. (Dr.) Stephen J. Cozza, co-principal investigator on the study.  Cozza is a professor of Psychiatry at USU and associate director of USU's Center for the Study of Traumatic Stress. "Equipping military families with resources that address the unique circumstance of their loss is an important part of honoring their service and sacrifice."
"Loss and grief are universally recognized as highly challenging life experiences," said M. Katherine Shear, M.D., Marion Kenworthy Professor of Psychiatry at the Columbia University School of Social Work, and study co-PI. "Most people find a way to adapt to even the most difficult losses when they are provided sufficient support.  In studying how to help bereaved people who have not found a way forward, we came to understand the kinds of information and activities that can help.  We are honored to have the opportunity to share these digital programs with bereaved military families and look forward to working with participants who join our study."
The Uniformed Services University of the Health Sciences (USU), founded by an act of Congress in 1972, is the academic heart of the Military Health System. USU students are primarily active-duty uniformed officers in the Army, Navy, Air Force and Public Health Service who receive specialized education in tropical and infectious diseases, TBI and PTSD, disaster response and humanitarian assistance, global health, and acute trauma care. A large percentage of the university's more than 8,000 alumni are supporting operations around the world, offering their leadership and experience. The university's research program covers a wide range of clinical and basic science important to both the military and public health.  For more information, visit www.usuhs.edu.