The Wounded Warrior Experience – Oct 25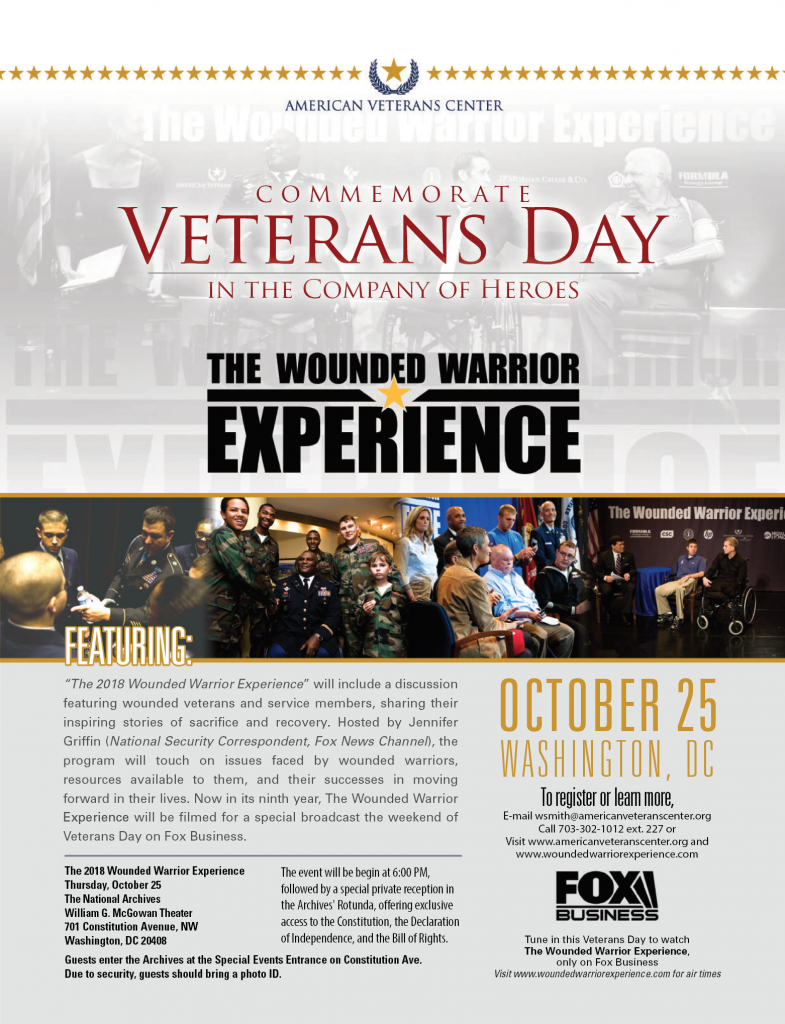 About the Event
The Wounded Warrior Experience features inspiring stories of sacrifice and recovery from wounded veterans and service members. Hosted by Jennifer Griffin, National Security Correspondent of Fox News Channel, the program touches on issues faced by wounded warriors, the resources available to them, and their successes in moving forward in their lives.
The program, now in its nineth year, highlights the importance of aiding America's heroes during their transition from military to civilian life.
Thursday, October 25
William G. McGowan Theater – The National Archives
700 Pennsylvania Ave NW, Washington, DC
6 pm – Discussion & Filming
8 pm – Reception
To attend this free event, e-mail or call 703-302-1012 ext. 227.
Tune in to Watch
Tune in Veterans Day weekend to watch the Wounded Warrior Experience on Fox Business, Sunday, November 11 from 3-4 PM.
Hosted by Jennifer Griffin, Fox News
Jennifer Griffin serves as National Security Correspondent for Fox News and is based out of the Washington D.C. bureau. She joined Fox in October 1999 as a Jerusalem-based correspondent. A graduate of Harvard University in 1992, Griffin received a B.A. in comparative politics. She is also the co-author of the book, "This Burning Land: Lessons from the Frontlines of the Transformed Israeli-Palestinian Conflict," which she wrote with her husband Greg Myre regarding their experience in Israel.