U.S. Department of Housing and Urban Development Job Fair – Aug 30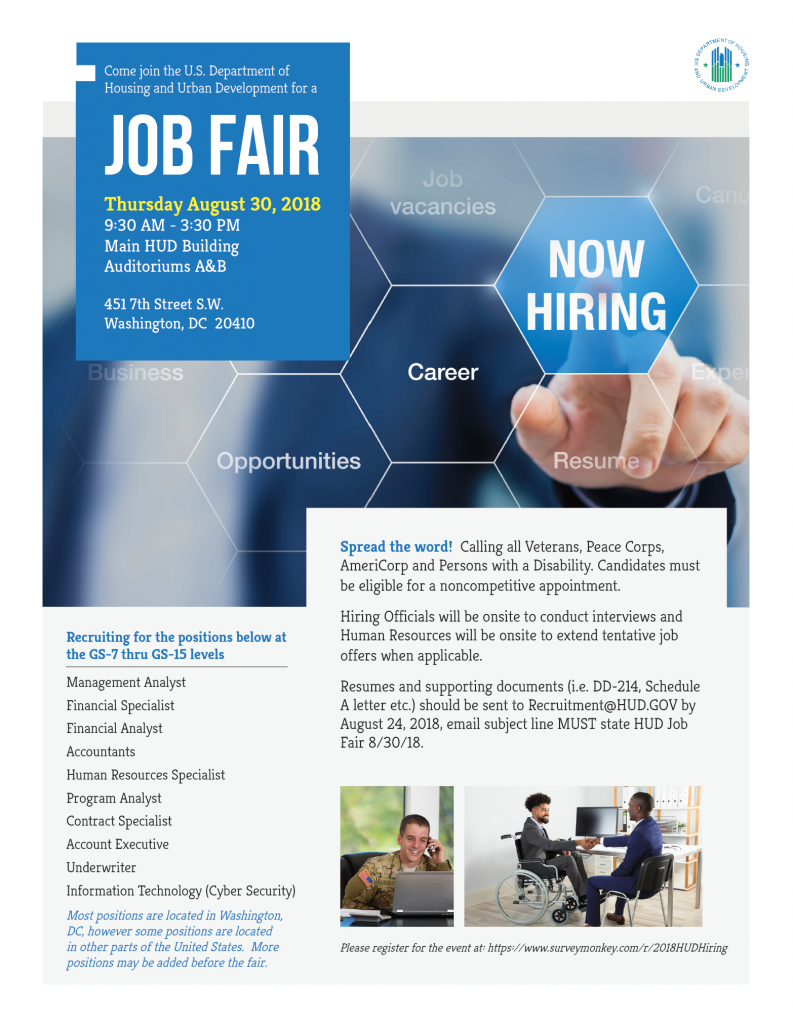 U.S. Department of Housing and Urban Development Job Fair
Thursday, August 30, 2018 (9:30a.m. – 3:30 p.m. EDT)
451 7th Street, SW (Brooke-Mondale Auditorium) Washington, DC 20410
Calling all Veterans, Peace Corps, AmeriCorp and Persons with a Disability. Candidates must be eligible for a noncompetitive appointment.
Hiring Officials will be onsite to conduct interviews and Human Resources will be onsite to extend tentative job offers when applicable.
Resumes and supporting documents (i.e. DD-214, Schedule A letter etc.) should be sent to:
 Recruitment@HUD.GOV by August 24, 2018, email subject line MUST state HUD Job Fair 8/30/18.
Recruiting for the positions below at the GS-7 thru GS-15 levels
Management Analyst
Financial Specialist
Financial Analyst
Accountants
Human Resources Specialist
Program Analyst
Contract Specialist
Account Executive
Underwriter
Information Technology (Cyber Security)
Most positions are located in Washington, DC, however some positions are located in other parts of the United States.
More positions may be added before the fair