Veterans in Business Conference – March 22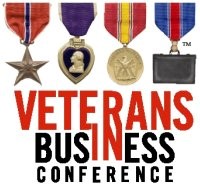 The Veterans in Business Conference returns for its 13th year of providing education, networking and business opportunities for military community (including Veterans, active duty, National Guard, Reservists and military spouses) who continue to strengthen our country with their small business endeavors and entrepreneurial spirit. Our focus for 2018:  
Every year, the Veterans in Business Conference strives to provide not only the best speakers and networking opportunities in the industry, but also to bring you relevant, useful workshops featuring expert speakers and panelists whose experience and insight will help you start and grow your business. And this year, I am truly proud to feature the following workshops:   
The Reconnaissance Track is  designed for small businesses that have little or no experience in federal procurement and/or business ownership. These workshops offer a broad brush from experienced professionals on the aspects of creating a successful veteran owned small business. Workshops include:
 Teaming & Partnering presented by Jon Williams (PilieroMazza)
 Mentor-Protege Programs presented by Kathleen Kelley (Protorae Law)
The Deployment Track is designed for business owners who have already broken into the federal marketplace and are seeking knowledge to grow. This track brings in seasoned professionals as presenters to inform and inspire owners as they seek to grow their procurement businesses. Workshops include:
 Access to Capital presented by Rod Loges (One Degree Capital)
 Supplier Diversity – Expert Panel
And Back By Popular Demand:
Special Lunchtime Panel: Being an entrepreneur is tough – trying to be a military spouse AND an entrepreneur can seem downright impossible. Join us for this panel of successful military spouses as they share their challenges and successes, and the resources that helped them succeed in business.
When:
Thursday March 22, 2018 from
7:45 AM to 3:30 PM EDT
Where:
The Army Navy Country Club
1700 Army Navy Drive
Arlington, VA 22202
Learn More About the Workshops & the Veterans in Business Conference