Veterans Caregivers Conference – Nov 17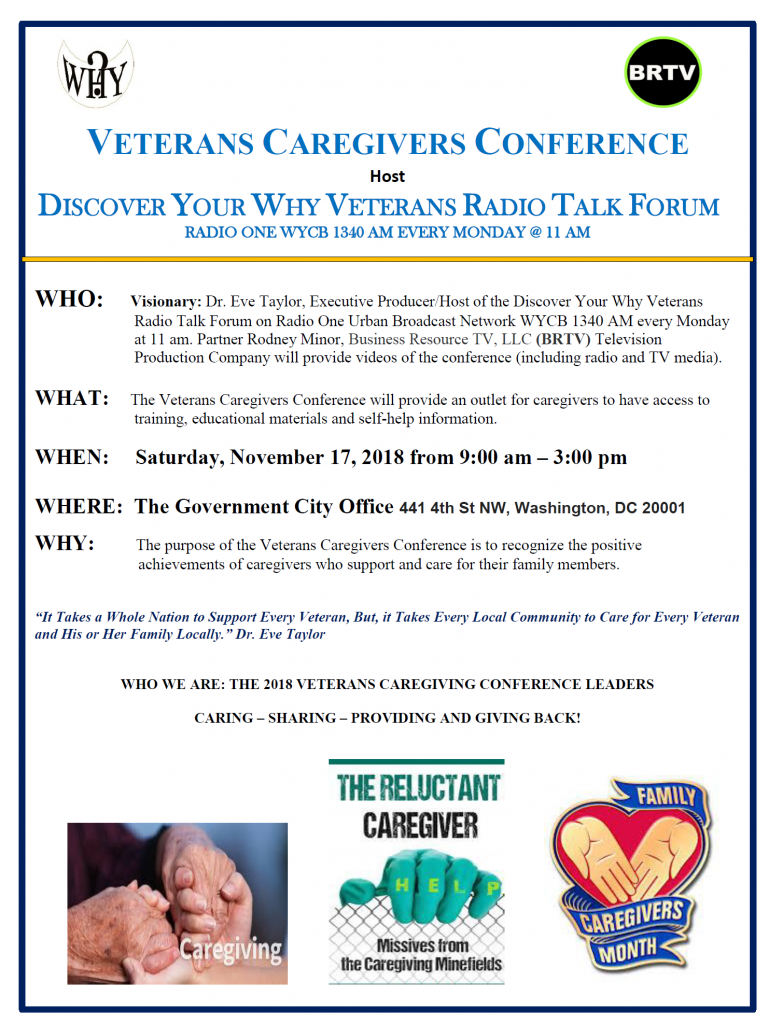 The Veterans Caregiving Conference will be on Saturday, November 17, 2018 from 9:00 am – 3:00 pm at The Government City Office 441 4th St NW, Washington, DC 20001. (Old Council Chambers).  
Dr. Eve Taylor, Producer/Host of the Discover Your Why Veterans Radio Talk Forum on Radio One WYCB 1340 AM Urban Broadcast Network every Monday at 11 am. Dr. Eve's Partnership with the DC Veterans Affairs Office and Team: Patricia Craig, Chairperson of the Veterans Mental Health Advisory Council at the Washington, D.C, Medical Center, Co-chair of the VISN 5 Collaboration of Mental Health Advisory Councils; the Mayor's Office of Veterans Affairs, Davon Gray, (Ret) U.S. Army Political Affairs and Army Officer in The National Guard, Rodney Minor, Executive Producer WHUT TV, and Robert W. Mitchell, (Ret) U.S. Marine Corps, U.S. Army & the Armed Forces Retirement Home, D.C., (Soldier Home) are creating a supportive community for veterans' caregivers by sponsoring the Veterans Caregivers Conference.     
 We are hosting the Veterans Caregiving Conference and reaching out to caregivers across all branches of service, who need your support to identify applicable training and resources, create a social network that fulfills their unique needs, and help navigating the VA processes for their veteran loved one(s), especially now as we approach the holiday season. The veteran's caregivers conference team will bring together these entities in a central location to DC, MD, and VA veteran caregivers. 
Senator Elizabeth Dole 'describes the incredibly awesome challenge caregivers face in, Commentary on Caregiver Suicide, she makes astounding statements, such as "Suicide among caregivers is an uncomfortable subject when veteran suicide is rising. Caregivers are our first line of defense in protecting veterans from taking their own lives. Our caregivers must stay one step ahead of their care recipients' suicidal thoughts. In time, our veterans' sense of hopelessness transfers to their caregivers. Compounding these difficulties is the dilemma that too many caregivers carry out their role in isolation. Caregivers are doing the difficult work of caregiving without any of the support." 
 The event is free. Register here through EventBrite or contact Dr. Eve Taylor at Tayloreve3@msn.com  or 571 334-2871 or Patricia Craig at dc.vamc.vmhc@gmail.com 321 537-0229 or www.2discoveryourwhy.com  
Vendors and Sponsors are welcome!