Veterans Town Hall – Nov 12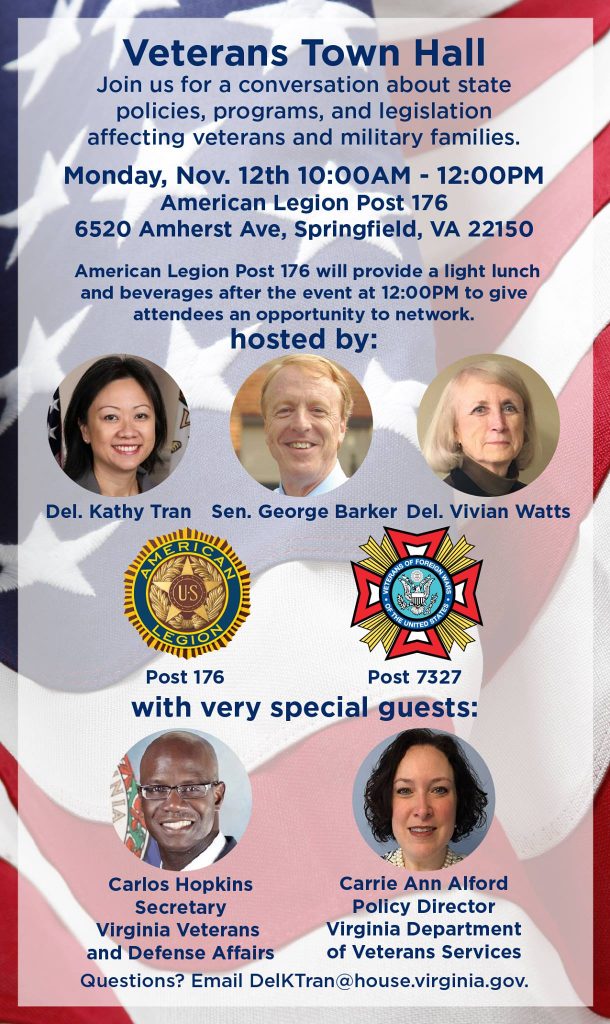 Veterans Town Hall
Veterans Day (Observed) – Monday, November 12, 2018
Join Senator George Barker, Delegate Vivian Watts, Delegate Kathy Tran, American Legion Post 176, Veterans of Foreign Wars Post 7327, and the Greater Springfield Chamber of Commerce for a Veterans Town Hall on Monday, November 12th from 10AM-Noon. The event will take place at the American Legion Post 176, located at 6520 Amherst Ave. Springfield, VA 22150.
We will have a conversation about state policies, programs, and legislation affecting veterans and military families. We will be joined by Secretary of Virginia Veterans and Defense Affairs Carlos Hopkins and Virginia Department of Veterans Services Policy Director Carrie Ann Alford. Staff will also be available for veterans to speak to about claims and benefits.
American Legion Post 176 will provide a light lunch and beverages after the event to give attendees an opportunity to network. If you have any questions, please email DelKTran@house.virginia.gov or call 804.698.1042.