Veterans Voices: An Evening of Storytelling – Apr 14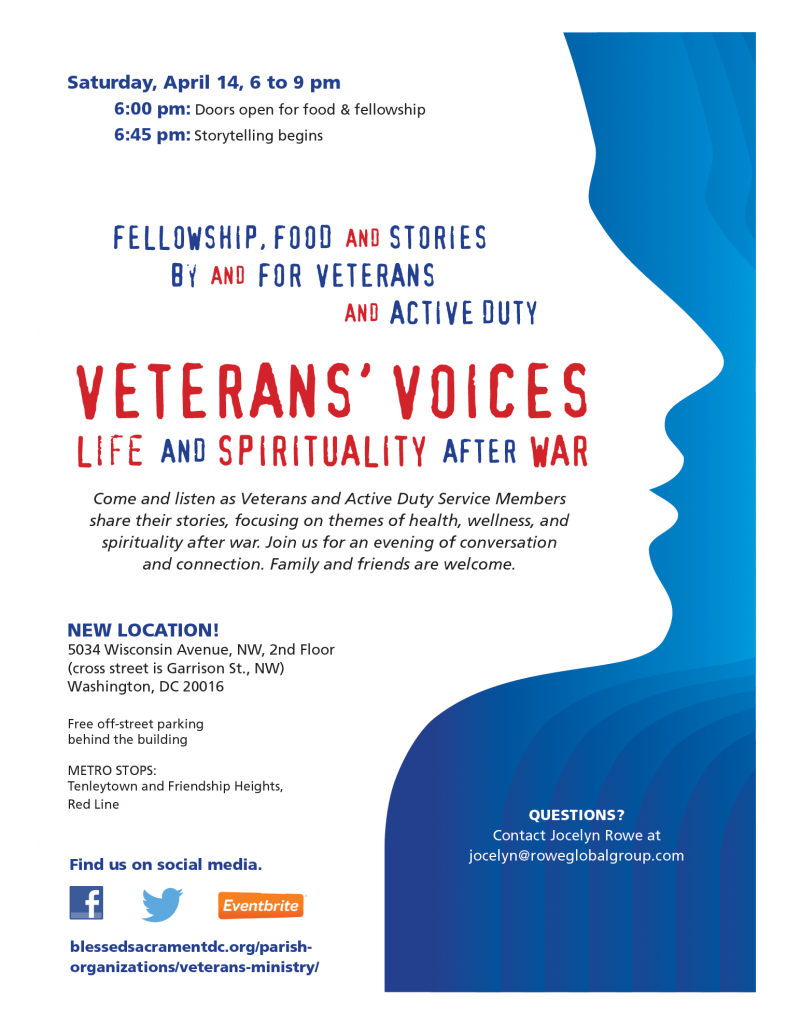 Veterans Voices is Back! An Evening of Storytelling, Saturday, April 14 with Claudia, Luis and Rebecca
Event to be held:
Saturday, April 14, 2018 from 6:00 PM to 8:30 PM (EDT)
5034 Wisconsin Avenue, NW
2nd Floor
Knights of Columbus
Washington, DC 20016
Veterans Voices is Back for a Very Special Evening of Storytelling.  Please join us for an evening of inspiration, reflection, food and fellowship.  
All are welcome:  Veterans, active duty military, military reservists, family, friends — please join us for this very special evening!
Our Storytellers:  
Captain Luis Avila, US Army and Claudia Avila 
& 
Major Rebecca Gutierrez-Goodum, US Army Retired
Luis and Claudia:
Captain Luis Avila grew up in a military family from Metairie, LA. He joined the United States Army in 2000 and became an officer in 2004. Luis served five combat tours in Afghanistan and Iraq.  
On December 27, 2011, while leading his team, a mounted improvised explosive device (IED) detonated nearby. Three of his fellow soldiers were killed by the blast and two others were severely wounded. Luis suffered an amputation of his left leg, two strokes, two heart attacks, and severe lack of oxygen which caused anoxic brain damage. Ultimately, he was left almost completely paralyzed.
Luis was in a coma for forty days. Although the doctors felt he would not recover, his wife Claudia and three sons stayed by his side. On February 13, 2012, Luis opened his eyes for the first time. He continues his extensive therapy at Walter Reed National Medical Center. Today Luis continues to progress while maintaining a positive attitude and an incredible sense of humor.  He and his family live in the Maryland suburbs and are active membrs of their community including the Knights of Columbus.
Rebecca:
Today a small business owner, Rebecca served in the United States Army for more than 10 years, successively managing large procurement contracts for engineering brigades.  Married with two adult children and living in the Maryland suburbs, Rebecca's story of resiliency and healing is a testimony to her perseverance and the support of her family during her hospitalization as a result of her service during the First Persian Gulf War. 
 More Details:
Food and fellowship from 6-6:45 pm,
Storytelling at 6:45 pm
Free parking behind the building
Street parking also available
Friendship Heights Metro is approximately 3 blocks away
Complimentary Food & Beverages
https://www.facebook.com/VetsVoicesDC 
@VetsVoicesDC