Vets Nite @ Throw Social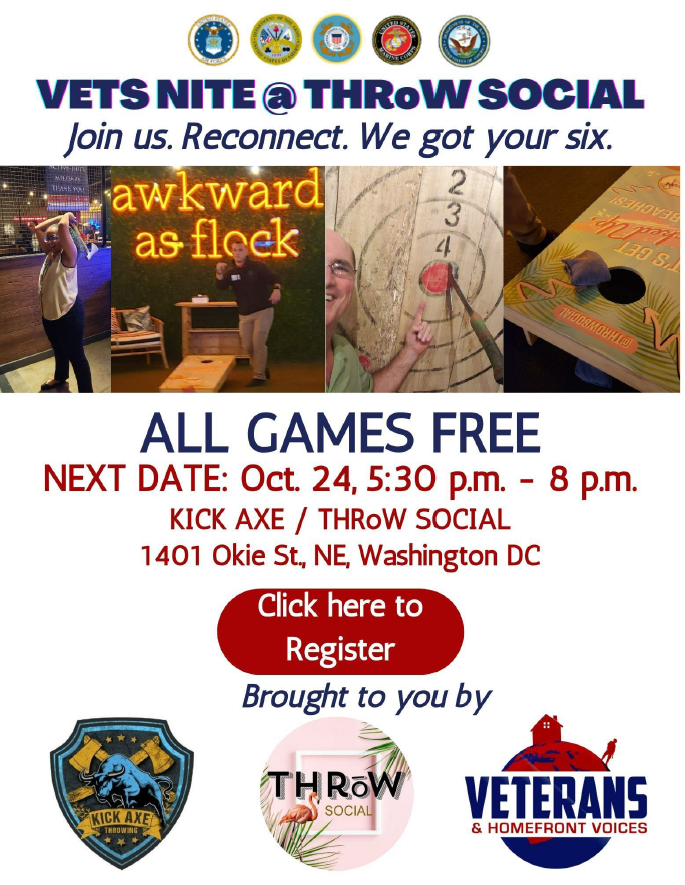 Fun – Connection – Community are the objectives of Vets Nite.  The goal is to create a space where veterans of all ages can meetup, have fun, find Battle Buddies, be with fellow veterans of all ages.
Throw axes, play ping pong and toss bean bags at corn hole, a shooting range simulator – just hang out with other vets and have fun, make friends, create connections and community.  This is part of the mission of our nonprofit, Veterans & Homefront Voices.
Along with inviting veterans in the workforce, we have invited student veterans enrolled in local universities up to enlisting WWII vets who are able and willing to join in.
When:    24 October: 17:30 – 20:00
Where:   Throw Social, 1401 Okie St. NE, Washington DC
All the games are free to Vets Nite guests.  All food and beverages are the responsibility of those ordering the food.
Can't join this one, Vets Nite will happen monthly on the 4th Monday of each month, except Nov & Dec when it will be hosted on the 3rd Monday.