Virtual Military-Friendly Job Fair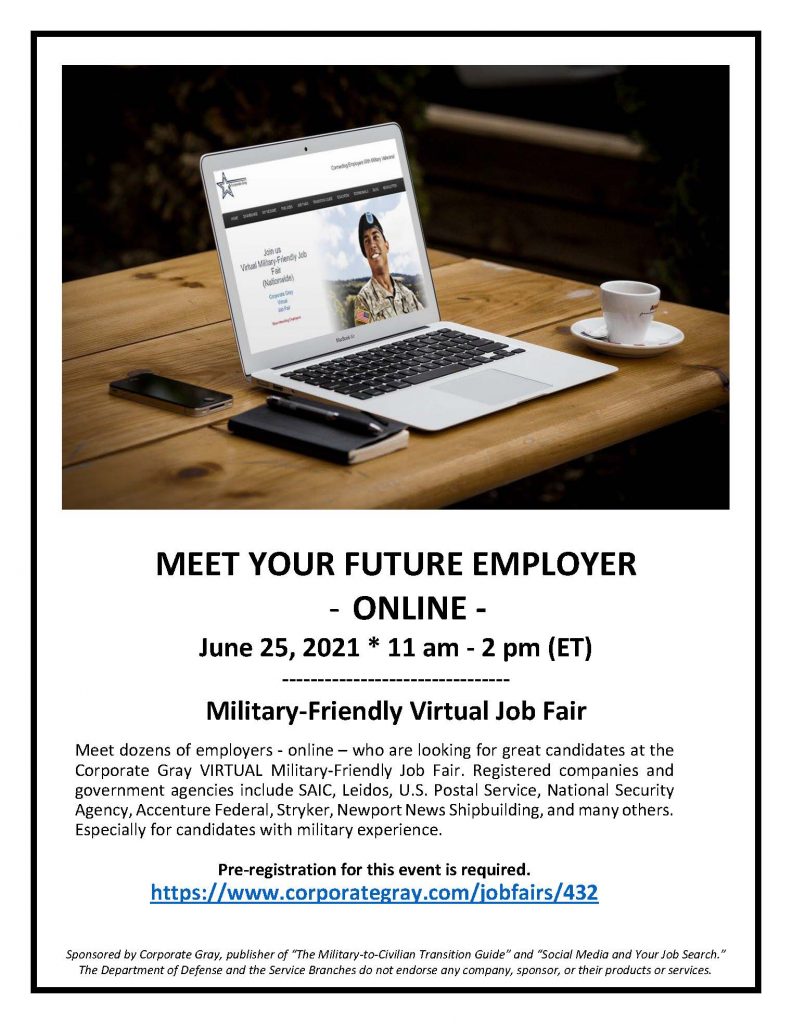 You are invited to participate in the Friday, June 25 Virtual Military-Friendly Job Fair, to be held online from 11 am to 2 pm (Eastern Time).
Interview via text chats and video with over 20 companies and government agencies, including: Lockheed Martin, SAIC, Transportation Security Administration, National Security Agency, Stryker, Scientific Research Corporation, Accenture Federal Services, Naval Systems Inc., Leidos, Foley CAT, LinQuest, Newport News Shipbuilding, LifeNet Health, U.S. Postal Service, The GBS Group, and more!
To see the list of all the companies registered to date, along with a link to their respective job listings and LinkedIn page, visit www.corporategray.com/jobfairs/432. Be sure to search their jobs and apply in advance so that you can chat about those applications during the event.
The first step is to register for the job fair on Corporate Gray Online:
1. Visit www.CorporateGray.com/login and login or visit www.CorporateGray.com/applicants/new and create an account.
2.  Click the JOB FAIRS link on the menu bar
3.  Click the "register" link for the June 25 Virtual Job Fair
4.  Upload your resume and click the "Register" button
You will then be directed to complete your registration on the eCareerFairs website, which is the platform that will be used to host this event.
All registered job seekers will receive an invitation to the Virtual Job Fair Training Webinar and receive the Virtual Job Fair Guide and Job Fair Employer Directory prior to the event. This job fair is free to all job seekers and especially for those who served in the military.