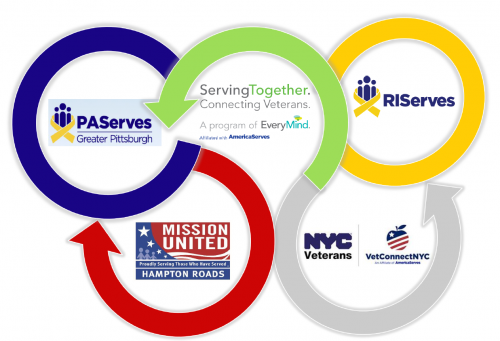 Improving Access to Behavioral Health Services for Military and Veterans
Wednesday, September 30, 2020
10 am – 12 pm EST
The Mid-Atlantic Regional Community of Practice presents the fifth Regional Community of Practice training event our AmericaServes network users and providers in Rhode Island, New York City, Greater Pittsburgh, the National Capital Region, and larger South Hampton Roads communities.
This workshop is FREE of charge to you and your staff within your organization.
This will be a completely virtual training and we encourage you to join us to strengthen your ability to support the military and veterans in your community.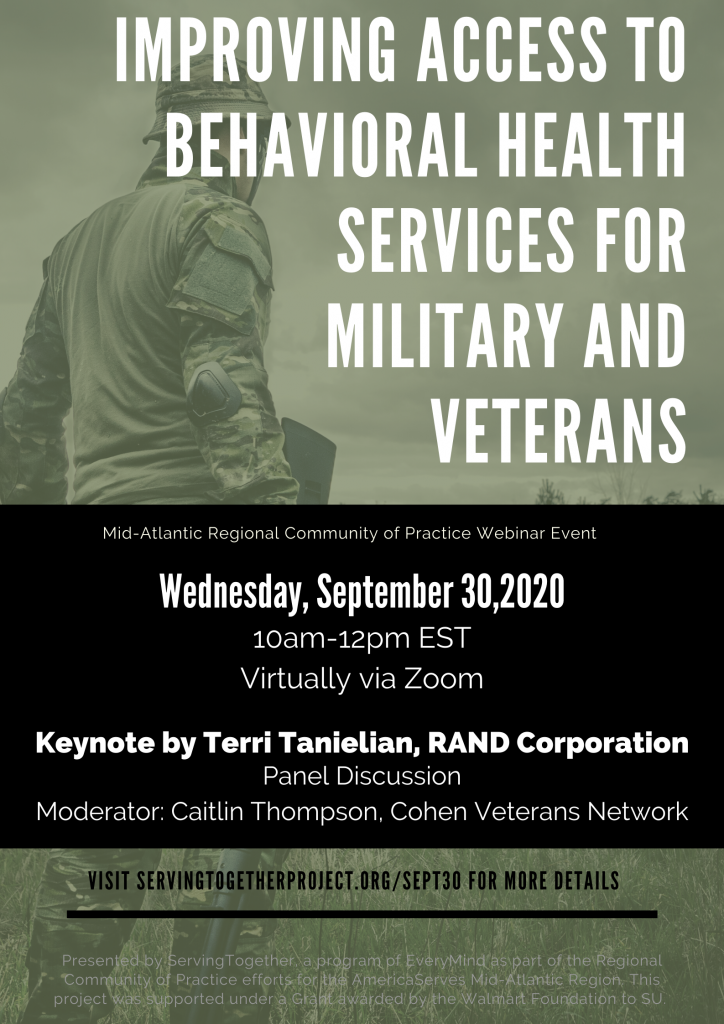 This forum is dedicated to training AmericaServes network users on the behavioral health issues in the military and veteran population and how to address the stigma and challenges associated with seeking access to mental health care. Our keynote and panel discussion will highlight prevalence of mental health, access to quality behavioral health care and best practices in building rapport with military and veterans.
Click Here to Download Presenter Bios
Agenda:
10:00 am:
Introductions
Provided by ServingTogether, a program of EveryMind
10:05 – 11:00 am:
Keynote:
Terri Tanielian, RAND Corporation
Overview/Objectives:
Describe the prevalence of behavioral health issues and related needs among the military and veteran population in the United States.
Provide an overview of the systems of care and landscape of services and supports for military and veteran populations with behavioral health issues.
Discuss barriers and facilitators for ensuring access to high quality care.
Describe some innovative approaches designed to promote greater access and quality.
Provide recommendations for further improvement.
11:00 am – 11:55 am
Panel Discussion:
Moderated by:
Caitlin Thompson, Cohen Veterans Network
Panelists:
Michelle Bradford, Hampton VA MC
Dr. Kawanna Ward, Blakey Weaver Counseling Center, Inc.
Dr. Iman Williams Christians, Steven A Cohen Military Family Clinic – at The Up Center
Dr. Mary Vance, Center for the Study of Traumatic Stress
John Howard, Western Tidewater Community Services Board
Objectives:
Best practices for building trust and rapport with military and veterans.
Sharing ways to create a safe environment as you work with those who have served.
How to engage with military and veteran clients who may experience stigma around seeking mental health care.
Unique factors to consider when working with various military and veteran populations, such as rural veterans, active military, Guard or Reservists.
11:55 am – 12:00 pm
Closing Remarks
Provided by ServingTogether, a program of EveryMind
---
Who?
Registered AmericaServes Network Users in the Mid-Atlantic Region (ServingTogether in the National Capital Region, Mission United of South Hampton Roads, RI Serves, and PA Serves of Greater Pittsburgh, VetConnect NYC | NYC Veterans). Staff and team members within the organization are encouraged to join this event. Individuals working with or supporting military and veterans in the Mid-Atlantic & North Eastern Region are also invited to participate.
Cost?
This workshop is provided free of charge, as part of the Mid-Atlantic Regional Community of Practice Champion initiative.
Where?
This workshop will be offered virtually through a live webinar option.
When?
Wednesday, September 30, 2020
10 am – 12 pm EST
Continuing Education: 2 Credit Hours
EveryMind will provide continuing education certificates to those in attendance for the entire seminar, after which attendees may collect their certificates.
EveryMind is authorized by the Board of Social Work Examiners in Maryland to sponsor social work continuing education learning activities and maintains full responsibility for this program.  This training qualifies for Category I continuing education units.
EveryMind has been approved by NBCC as an Approved Continuing Education Provider, ACEP #5796. Programs that do not qualify for NBCC credit are clearly identified. EveryMind is solely responsible for all aspects of the program.
Registration:
Reservation required. Please RSVP to secure your in person attendance.
Register to Participate Virtually
We will offer this session virtually via Zoom.
Questions?
Please contact Janay Tyler at jtyler@every-mind.org or by phone at 703-596-9486.
Presented by ServingTogether, a program of EveryMind as part of the Regional Community of Practice efforts for the AmericaServes Mid-Atlantic Region. This project was supported under a Grant awarded by the Walmart Foundation to SU.