Watch the Recording: Shared Cost – Communities' Roles & Veteran Transition Stress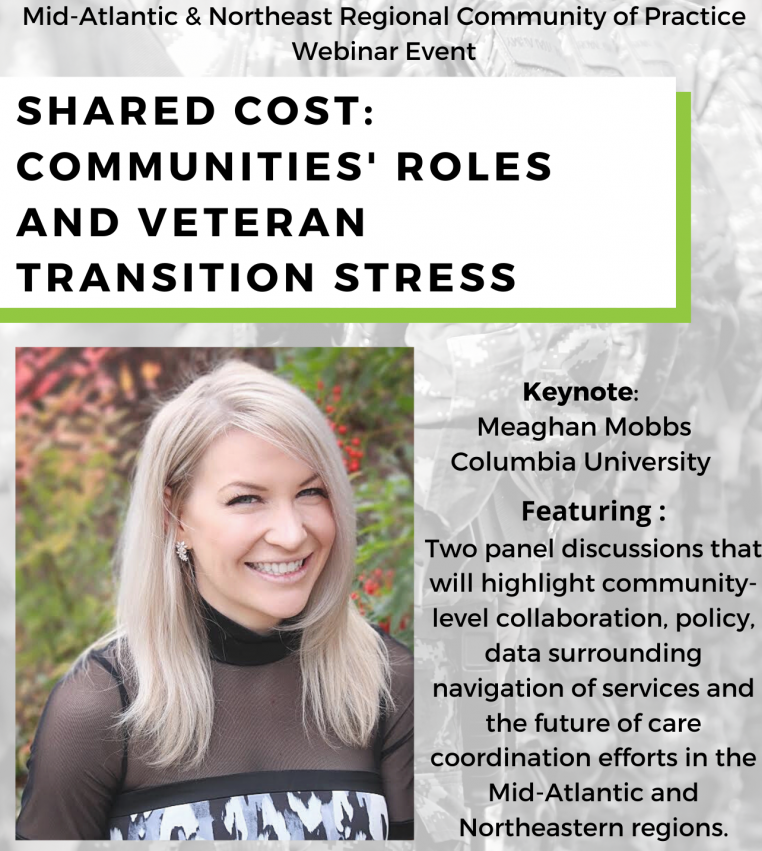 Shared Cost: Communities' Roles and Veteran Transition Stress
Did you miss the webinar? Check out the recording here!
The Mid-Atlantic & North East Regional Community of Practice presents the eighth Regional Community of Practice training event for our AmericaServes network users and providers in Rhode Island, New York City, Greater Pittsburgh, the National Capital Region, and larger South Hampton Roads communities.
This forum is dedicated to training AmericaServes network users on the impact of collaboration in preventing suicide and crises in the military and veteran population.
Shared Cost – Communities' Role and Veteran Transition Stress
Presented by Meaghan Mobbs, Columbia University
Learning Objectives:
-Identify and understand transition stress
-Associated risk factors during the transition
-Role of community partners in well-being
-Recommendations to help close the "deadly gap" during the transition period
The Impact on Prevention and Where is This Heading?
Panelists:
Megan Andros, The Heinz Endowments
Gilly Cantor, MPA, Institute for Veterans and Military Families
Nate Birnbaum, Institute for Veterans and Military Families
Daniel Perkins, Ph.D., Clearinghouse for Military Family Readiness
In Your Community: The Mid-Atlantic and Northeast Discussion
Moderator: Vincent DelSignore, Community Services Program Manager at the Institute for Veteran and Military
Panelists:
Christy Kenady, ServingTogether
Natasha Bugey, Mission United, South Hampton Roads
David Dos Reis, RIServes
Amauri Espinal, NYC Veterans
Aaron Melius, PAServes